Viewing Post for: Bhutan 2017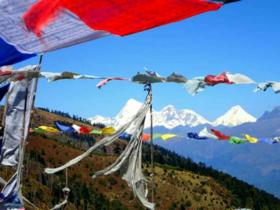 Date: Wednesday, October, 18, 630 pm, very dark.
Location: Shana, Bhutan
Start of our trek We are in a deep Himalaya valley, in the dark, awaiting dinner and a satellite signal to send this. Today we drove to a stunning 13,000 ft pass to acclimate and see the view. The pass was filled with hundreds of fluttering prayer flags. We climbed above the pass to sit and listen to the wind and in the chanting of monks with their horns and drums. So lovely, we sat for a long time before we headed back to the bus and our drive to camp. Just got a pic out so want to send this quick.
---
Messages for this post
For: RoRo
Hello, RoRo! We are eating breakfast while we write this. Sounds like it was extremely peaceful and beautiful among the prayer flags and sounds of chanting. Did you feel ok at the high altitude? What did you end up having for dinner? Have you seen any wild animals? We hope you have a fun day! We love you! Time to go to school.
---
Ella and Adelai - 10/19/2017
For: All
Well...Shirley is at peace. We were with her at Highland Hospital as she quietly left. Sue is well and busying herself with her to-do list. Thank you for your kindness when I was with you. Bob and Sue
---
Bob - 10/18/2017
No more comments are allowed at this time.