Viewing Post for: Bhutan 2017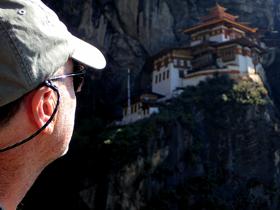 Date: Tuesday, October 17, 3 pm
Location: Hotel room overlooking a beautiful river in Paro
I sit here writing this in a Bhutanese decorated hotel room on a balcony. In front is a Tibetan-style, 8 sided stone building. Beyond that a lovely clear green rushing river. Amazing as it still looks like a mt stream despite it flowing through a large town. This is a contrast especially in Asia where it would be a muddy, bubbly, plastic laden stream of suds and smells in other countries. Despite steady slow growth here the country maintains a sweet, peaceful feeling.

We left at 6 am to beat the crowds to climb to Takstang monastery, the iconic monastery high on a sheer cliff. Beyond the obvious attraction of location and beauty, if you are still, you glimpse a feeling on the edge maybe of what it would be like for the monks who for over 1,000 years have meditated to subdue evil in the world in the caves here.

In the streets and shops, there can still be felt an under of more peace and contentment then most places. Smiles come easily. In meeting people there is a sincerity that renders trust easily.

We head deeper into the mountains tomorrow to start our trek.
---
Messages for this post
For: Ro
Hello! Wow! such an amazing place to visit! To enter into something with such spiritual history must be very moving! I hope all is well I am sure. Have a great trek! I am excited to see and read more about it. Love you! Daniel
---
Daniel - 10/18/2017
For: Paul Garsin
Hey, Dad! Hope your having a great time ... and not annoying the group too much with your odd views and noises (particularly the "nose whistle" while eating and the snoring). We've all been following along and enjoying Rick's commentary. Make good decisions out there... And remember: when your hiking don't dangle your poles behind you; that's annoying too. Love you!!
---
Eric and family - 10/18/2017
For: Mom
So exciting you are starting your trek! It seems as though you have already found some stillness from which to begin. The whirlwind of last-minute packing, international travel, and the metropolis of Bangkok must be quite the contrast to your current location and state of mind. I am anxious to hear about your visit to Paro Taktsang- just like E, I'm drawn to it. Things here are good. Frost last night, 70 degrees tomorrow. Good old Rochester weather! Looking forward to the River this weekend. XOX
---
Jaima - 10/17/2017
For: RoRo
Hello, RoRo! I love you! I was just looking at pictures online of Paro Taktsang, and I think it is the most beautiful place I have ever seen. I can't believe you actually got to be there! Did you have a tour, and did you get to look in the special cave that Padmasambhava meditated in? I'm really excited for you that you get to start your trek. Can you please take a picture of a loaded pack animal for me? I'm curious to see what it would look like. I Love having Fordy here. Love you! Ella
---
Ella - 10/17/2017
For: RoRo
Hello, RoRo! Golly, I miss you so much! Sounds like your trip is awesome! I have a few questions. You might have to research this first one. Do they have any card games in Bhutan? Mama and I were just reading about Paro Taktsang, and i want to ask- did Padmasambhava ever eat while he meditated? What are you eating? What is the skin tone of the Bhutanese people? What language do they speak? I'm getting ready for bed, and Fordy is lying on my rug. Bye bye! I love you. Adelai
---
Adelai - 10/17/2017
No more comments are allowed at this time.