Viewing Post for: Bhutan 2017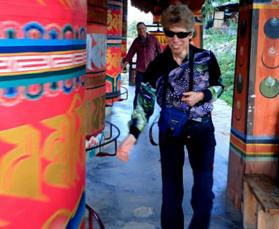 Date: Monday, October 16, 6 pm.
Location: Paro, Bhutan
Up at 2 am. And to the airport. Stopped in Kolkata India for a few minutes. Then fly into the Himalayas. Good view of Everest on the way. The landing in Paro is exciting. Only small jets can land. Tight valley. Safe touchdown! Yeah!

Gained an hour so good long day. So beautiful here, and quiet. We visited a few temples and old forts. They are immersed in legend and myth. Our guides dress in formal cloaks called ghos and tall dress socks. They need to put on a white scarf to go into the temple and we needed to wear long pants and a collared shirt. Combined with the colorful temples, rice fields, beginning of mts, we feel we have been transplanted to another world.

We also ate our first daistu, the national dish of cheese sauce and hot chilis. Chilis here are a vegetable not a flavoring. Wow! Hot!

As the sun goes down, the forts and temples are lit by lights, the steep hills fade into dark, the clear, clear sky is filling with stars. And we sit in a buddhist style lodge next to a clear rushing riverů, ah, we are in Bhutan!
---
Messages for this post
For: All
What a great group you are. I am enjoying your FB and Live Posts. Tigers Nest must have been amazing. Rank there with the most memorable places you will ever go! I got home easily on Mon afternoon my time, Tues afternoon yours. I am so glad I came home. Shirley is still with us. (Always will be) Unresponsive. Sue is fine. Take care and we hope to travel with you another time.
---
Bob - 10/17/2017
No more comments are allowed at this time.