Viewing Post for: Bhutan 2017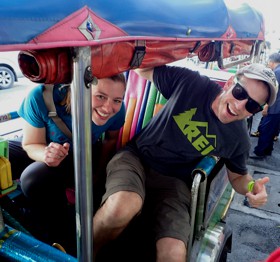 Date: Sunday, October 15, 5 pm Bangkok, 6 pm Saturday New York.
Location: Lobby of a beautiful hotel in Bangkok
What an interesting day. Up early to take the train into the city. Met Ann out guide who had a delightful sense of humor. We had to visit some unusual sites as the whole city is practicing for the King's funeral. River is shut to traffic, roads and temples closed... so we had this great high speed tuk tuk ride of the city. We visited The Jim Thompson house. Jim was a CIA spy who mysteriously disappeared after starting the international silk business here.

Great Thai lunch. Then hit a bakery for Sarah where we accidentally bought dried fish we thought was a sweet.

Now trying for an early night. 330 am departure for our Bhutan flight in the am.
---
Messages for this post
For: Sarah and Garth
Love the photo! Ollie says hi! We are enjoying the updates! Love, Mom and Dad
---
Linda and Rob - 10/17/2017
No more comments are allowed at this time.