Viewing Post for: Women's House Building 2017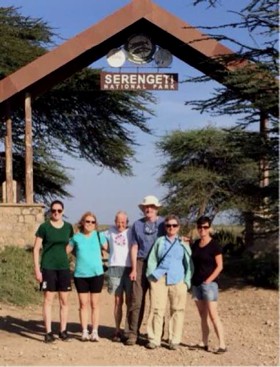 Date: Sunday, March 12th
Location: Karatu Tanzania
Another day of adventure! Lions and hyenas lulled us to sleep in our tents last night. We were well rested for animal searching today, covering about 300 kilometers of Savannah and woodlands. After the success of the past two days, we weren't expecting any surprises. We were wrong. Within about 10 minutes of leaving camp, we watched 18 female lions walk across the plain. We watched in awe as the pride changed location. Not a bad way to start the day. Our destination was the mass of wildebeests migrating. Never have I seen so many animals in one place! Thousands running by, stopping for no apparent reason, then taking off again. There are lots of babies, something that pleased us all. On our way to the wildebeests, we happened upon a caracal being chased by Grant's gazelles. We never expected to see this small cat. In fact, Yusuf told us we wouldn't. The luck continued! Unfortunately, the caracal quickly hid in a hole, so we only saw it for few moments. Still, Yusuf has only seen about 3 in the Serengeti, so even the short glance was monumental. Lunch was served under a large tree, zebras, wildebeests and giraffes eating around us. It was such a peaceful way to share a meal, reinforcing the connections between all living things. As we meandered back to town, those connections continued. We met a lone bull elephant, his strength palpable as we watched him eat and dust off. The giraffes we encountered were slow and deliberate in their movements, something we found very peaceful. Tomorrow we head to the airport for our journey home. We'll have a few adventures along the way, so I'll share them in one more post. We all seem to have mixed feelings about leaving- it is difficult to have this experience end, but we are looking forward to returning to our loved ones.
---
Messages for this post
For: Jaima
Sweet girl, I cannot wait to see you! And to hear about all the adventures. Safe travels, XOXO
---
Mom - 3/13/2017
For: Mary Callaway
My assessment is that this is the very best trip you've ever had because you made the people connection. People count. New York State has scenery. It will be wonderful to hear your voice on the phone or to hear the foots on the back stairway. love, Mary
---
Mary Critikos - 3/13/2017
For: Jaima
Hello Jaima!! Once again so amazing all that you are taking in. We can not wait to see you and have family picture story time. Enjoy your adventures on the way to the airport and have safe travels home!!! Love you Jaima!
---
Daniel - 3/12/2017
For: Mary Callaway
We are so glad you will be coming home, Mary! We know re-entry is hard. You can handle it! We love you and are happy to have you back! Karen and Stephen (and Jessie)
---
Karen and Steve - 3/12/2017
No more comments are allowed at this time.