Viewing Post for: Women's House Building 2017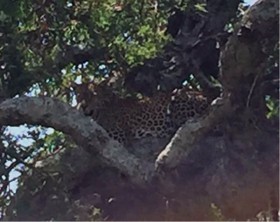 Date: Saturday, March 11th
Location: Serengeti National Park
"Yusuf is the best!" This was the unanimous response when I asked the group what they wanted me to include in today's post. We have had another amazing day with him as our guide. As Christine commented when we arrived at camp, "It's really great to have Yusuf taking us on safari. He's not our guide- he's one of US." He has been our expert, our translator, and most importantly, our friend. He's also a great guide. We not only saw the last creature on the list of the Big 5 (leopard, a nocturnal animal), we saw two. And the one pictured we had to ourselves. You see, safari vehicles have radios. The Serengeti is over 5000 square miles, so when a truck finds an animal (especially one that is not often viewed), they announce the sighting so other trucks in their company can come to see as well. It's an easy way to be successful, but there can be 10 other trucks. We were alone with the leopard; no one else to disturb the animal or us. This also happened with a cheetah, some giraffes, and a bunch of lions. We call them our private animals. We'll show you photos when we get home. Highlights of the day: Mary- climbing up and back down the kopje without falling, thanks to Jeff. Christine- giraffes Emily- riding the elephant Jeff- the cheetah Esther- remembering taking a picture of Tom S at the Serengeti Gate in 2008, just as we did today. Yusuf- the private leopard (we knew it was a big deal when the safari guide whipped out his camera and stood up on his driver seat) Quiet in camp tonight, aside from a hyena. We were charged by a Cape buffalo upon our arrival, so we're not minding too much. Another game drive tomorrow. We'll be following the Great Migration, masses of wildebeests and zebras. Based on our brief experience, something amazing will happen.
---
Messages for this post
For: Christine
So glad your trip is gong great ! I caught up on your adventures today ! Hanna and I saw many of the same animals -at the Philadelphia zoo-not quite the same setting ! Continue to have a blast ! Love Eileen
---
Eileen - 3/12/2017
For: Esther, Jess, Emily and all those we don't know
Wow what an experience you are having! Can't wait to see all your pictures and hear every detail of your adventures. Luv ya, Ralph and Alice
---
Alice and Ralph - 3/12/2017
For: My friends
AWESOME! Rick
---
Rick - 3/12/2017
No more comments are allowed at this time.