Viewing Post for: Women's House Building 2017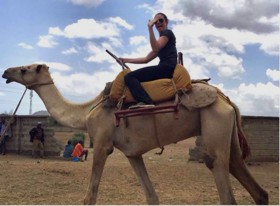 Date: Monday, March 13th
Location: On our way home
It's a somber ride this morning. We all have loved this adventure- it's a bit overwhelming to think of saying goodbye to this beautiful country and returning to snow. Seeing family and friends draws our hearts home, though. We'll find some adventures on this last day. We always do! When sharing everyone's highlights the other day, I purposely left out my own. Each night we've reflected on our favorite parts of the day, and as I listen to each person's thoughts, I had the realization that the people were my highlight. The bonds we formed with the Tanzanians came fast, unforgettable in their ease and depth. We travelers have been together constantly for the past 18 days; we quickly formed a family, each contributing their individual strengths to the group. Rick brought his experience, passion, and vision to the journey, providing this life-changing opportunity for us. Bibi Mary (grandmother in Swahili) has such joy for all that life brings and always has a hug to offer. Esther's fierce mother instincts have kept us well cared for- she made sure we all got the photos we wanted before moving on, and no one has gotten dehydrated. Christine is always up for an adventure and a good laugh, so she has kept us smiling. Emily's desire for fun and her dead-pan delivery of silliness has provided lots of entertainment and joviality (evident in her highlight of the imaginary elephant riding. That's frowned upon here). Jeff says little, but when he does we all listen- it's usually something that has us rolling on the floor with laughter. And Yusuph, part of this crazy group from the beginning, has allowed us to truly experience this country of his. We are all thankful for each other, and as we transition back to our normal lives, we know that we'll always have each other to keep this journey alive. See you Stateside!
---
Messages for this post
For: Mary Callaway
SAFE TRAVELS::Safiri Salama, heri upendo familia! Karen and Steve
---
Karen and Steve - 3/13/2017
No more comments are allowed at this time.