Viewing Post for: Women's House Building 2017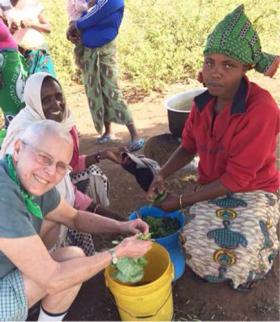 Date: Friday, March 3
Location: Still at Lake Eyasi.
Working at the building site and with the girls at the vocational school This experience is to build houses but it is about people. We interviewed the two woman who were getting the houses. Christina began crying as soon as she started to speak (in her mother tongue) For both women, they had thought they would spend the rest of their lives when it rained watching the kids get wet, & cry. Stick sheds are not secure so they can have no belongings of much importance. Amazingly, Christina whose house was sticks, saw a woman wondering in the village with her kids, from place to place, tree to tree and despite her lack of assets, gave part of her land to Marietta to have a place to build a house. We are getting Christina medically checked. It appears a year ago she developed a scalp itch that turned into an infection which is still there. Her lymph nodes are huge. Although this all sounds depressing, that is not how we spend our days. We spend them cutting vegetables, walking hand in hand, sharing the cooking, and the building. We learn a few more words each day so now we can joke. Our new friends laugh easily, they share with us what they have, literally often reaching out to us. Mary who is with us is so moved by a Mary she met here, she is looking into sponsoring here so she can attend secondary school. Our young Mary is very smart. Already a leader. We are humbled by how we have been received so openly. Our interview will be posted as part of a video after we get home about this incredibly humbling opportunity. If you would like more information on this project, look it up on www.journeysofsolutions.org. This is our nonprofit where we raise all the funds for this project. Look under current projects. Even now, we are planning to be in Tanzania each year going forward.
---
Messages for this post
For: Chris Laz
Amazing adventure, we're so thrilled for you!
---
Joan and Marinus - 3/5/2017
For: Esther and Jeff
Looking forward to hearing all about the trip when you return!
---
Howie Tanzman - 3/4/2017
For: Emily
I hear there are some good golf courses in the area. Although some unusual hazards.
---
Howie Tanzman - 3/4/2017
For: Jaima
Hello J! I look forward to reading the post every night about your adventures!! All is well here! The kiddos are troupers and are doing well. Hope all is great with you. All of this sounds so heartwarming and amazing! I can not wait for all your pictures and stories!!! Love you Jaima!! Good night!
---
Daniel - 3/3/2017
For: Ester
So fun to read of you work and adventures - how can it be 9 years since Kili???? May you have a wonderful trip full of laughter, service, joy and magical moments of peace! Can't wait to hear all about it! Love, Matt and Char Flanigan
---
Char and Matt - 3/3/2017
For: Chris
Wonderful to read about your adventure of service. We are thinking of you each day and sending prayers of joy, strength and hope for all of you. Keep up the great job and soak up every moment of appreciation! Love, Char and Matt Flanigan
---
Char and Matt - 3/3/2017
For: Mary Callaway
Looking great, Mary! Looking forward to hearing all about it. Anne
---
Anne Bryant - 3/3/2017
For: Christine
We are thrilled to read the blog every day :) What an amazing adventure you all are experiencing ! We know that you are touched by all you are seeing & doing for others ! We are as aways so proud of you & know that you are as always taking care of yourself too ! It is snowing very peacefully here today after all the WIND we had yesterday :( We are all happy & healthy Love you lots Mom ,Dad , Peter, & Molly
---
MOM & DAD - 3/3/2017
For: ALL
Another beautiful message. Thank you for what you are doing.
---
BARB - 3/3/2017
No more comments are allowed at this time.