Viewing Post for: Women's House Building 2017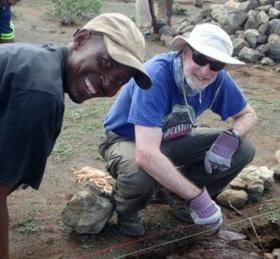 Date: Thursday, March 2nd
Location: Lake Eyasi
Another great day on the job site! It's Jaima writing this one.

Christina's house now has a colorful exterior and the foundation is almost complete on House #3. We all carried bags and buckets of rocks that were added to the sand, concrete, and water to make the mortar. It was mixed on the ground with a shovel- no wheel barrows here. Rick and two others left to get the bags of concrete in town on a motorcycle (piki piki in Swahili); his trip also included delivering grass mats, charging a phone, hanging out, and playing with children. The time we have spent with the people here allow for these seemingly simple tasks (such as getting concrete) to turn into epic adventures. After bonding over stirring ugi (cornmeal and water), my new friend Lightness indicated that I was to go with her. In spite of virtually no common language, we communicate well. We began walking towards her house, which is where I thought we were going. Nope. As we continued walking through the brush, we shared information about our families and our lives. Hand-holding is a common practice, indicating friendship, so when she took my hand as we continued on our journey, my heart filled. I had no idea where we were going, but I knew I would be cared for. We eventually came to a cluster of thatched-roofed buildings. Peering through the metal bars of a window, I figured out our mission- it was a store! A few shelves on the back wall of this small room held some bars of soap, some lighters, a few snacks and toiletries. Now, I didn't have a clue what we were there to buy, but at least I had the destination. But of course it couldn't be this easy. The store was locked and not one of the 4 people hanging around had a key. So we walked on. Through a combination of Swahili, English, and charades, I finally deduced that we were in search of sugar for the ugi.

Our stop at store #2 was a short one. No sugar. We continued our search, walking along a creek bed to a larger homestead with several buildings, goats, cows, and a couple of donkeys. And, thankfully, an open store with sugar! We were elated, laughing at how long this simple task took. While returning to the building area (finally), we held hands and taught each other simple words in our respective language, creating something as old as time: a friendship. We all have had experiences like this during our visit. We have navigated conversations in a foreign language, developed relationships with people who live a different life, and done jobs that are unfamiliar. But that's why we are here.
---
Messages for this post
For: Jaima
Waved good night to your family a bit ago after a dinner of eggplant parm, pasta, salad and garlic bread. A comfort meal on this cold blustery night. You all will miss 19 degrees tonight. Reminds me of the difference in temps when we were in Goa. Off on the train tomorrow for NYC! I loved your description of your sugar finding adventure with Lightness. I am looking forward to showing Ella the real neighborhood when we are at Tensing Pen. Keep the great posts coming! Love you, Mom
---
Mom - 3/2/2017
For: Jaima
Hey Babes! Great to read the post from you and your fun adventures with Lightness!! What an amazing trip to the store with your friend. I think about you taking her to Pittsford Wegmans. I hope all is well my love!! Love and Prayers to you Love Daniel
---
Daniel - 3/2/2017
For: Mary Callaway
Hello Mary - the RIT program for March (3/15) features the RIT's women's engineering team that holds no interest for me so I decline this month's offering - it is also the day after you return which would be rather inconvenient as I expect you have other priorities. That's about all the news from me - Paul and Ken went to lunch yesterday. He called today and I told him I was going with Helen to GEVA on Sunday - he had tickets for another night's performance and I told him I was tired. M.
---
Mary Critikos - 3/2/2017
For: Mama
How do you say Adelai in Swahili? Do you like being in Africa with your new friend Lightness? Bye Mama I love you very much! Snuggle kisses!!
---
Adelai - 3/2/2017
For: Mama
Hi Mama!!! I really like the way you wrote about your experience with Lightness!! Lightness is a very pretty name! I love you and missy you very much! Love Ella
---
Ella - 3/2/2017
For: the rest of my family
Nice to see you in one of the pictures dad instead of behind the camera, although mom always makes you be in some. Sounds like hard work. Talked to Grandma and she was thinking of you guys.
---
Paula - 3/2/2017
For: ALL
HELLO MARY, ESTHER, JEFF AND RICK. THOSE ARE ALL THE PEOPLE IN YOUR GROUP THAT I KNOW BUT ALSO HELLO TO EVERYONE ELSE. YOUR TRIP SOUNDS GREAT. I LOVE THE SUGAR STORY AND THE STORY OF THE WOMEN GREETING YOU. WOW! WE HAD HIGH WINDS HERE, A WHOLE TREE ON MY STREET FELL OVER AND HIT TWO HOUSES!
---
BARB - 3/2/2017
No more comments are allowed at this time.