Viewing Post for: Greenland by Day Hike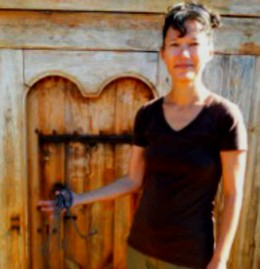 Date: Sunday, August 28
Location: QAGSSIARSSUK again
Lovely, quiet morning with our coffee overlooking our beautiful fjord. Then we went to explore the 1000 year old ruins of Eric the Red. A great long house has been reconstructed with replicas of the viking days. His wife's tiny church also has been reconstructed.

This is the junction of the west and the east. Here a thousand years ago the Inuit who migrated across the Bering Straits met Europeans. A lovely Greenlandic woman who married a Dane who spent a year as a student in Penfield gave us the tour.

Then we got to the store only open 2 hours per day. We got whale blubber, reindeer, lamb and musk ox for dinner. Very Greenlandic. There were a few faces trying the musk ox and matak (whale blubber).

Afternoon was spent hiking over the mountains behind us. Amazing hike to overlook the next ice filled fjord. A beautiful, peace-filled day.
---
Messages for this post
For: Jennifer
Can't wait to sit in the garden with you, have tea and hear your stories. Miss you friend. See you very soon. XOXO
---
Sara - 8/29/2016
For: Mary and William Callaway
...this is further to Karen's note - Paul and I will be going out to East Henrietta for lunch on Tuesday to the same place Steve took him last week. Tomorrow, however, is a return to Rocky's for eggplant. I saw David Fetler in FedEx tonight at Twelve Corners - he didn't acknowledge me at all which is not surprising. All this to say, business as usual and we're looking forward to your return and your jubilation over these last 2 1/1 weeks. A very special thanks to William for accompanying Mom
---
Mary Critikos - 8/28/2016
For: Barb
Miss you, mom! Come home soon! But keep having fun! I went to wineries near Seneca Lake today. Love, Katie
---
Katie - 8/28/2016
For: Mary
Your adventures sound amazing. We miss you. Steve had fun at lunch with Paul yesterday. See you soon. Love, Karen
---
Karen and Steve - 8/28/2016
No more comments are allowed at this time.