Viewing Post for: Greenland by Day Hike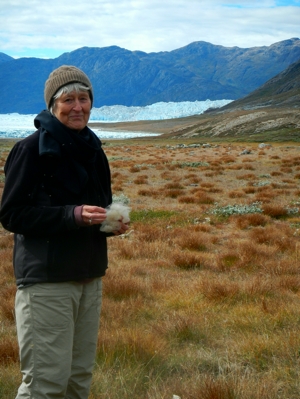 Date: Monday, August 29
Location: Narsarsuaq, the circle closes.
Another calm morning. Still and cold enough that some skim ice formed in sheets on the fjord.

Such stillness for such a huge fjord. We crossed by boat back to the town our airplane landed in. Here we stay in a hotel again. A slow day of visiting the small local museum, Cafe, and a lovely 2 hour walk to the top of signal hill. We passed the largest forest in Greenland planted here in the 50's.

Dinner tonight is at the largest hotel chain in Greenland's restaurant, we are the few visitors left at the end of tourist season here.

Tomorrow we will hike most of the day to see if we can get to the nearby glacier. Our plane leaves at 6 pm. By the time we return to Iceland and get to our hotel it will be after midnight. We will get up early Wednesday morn to then fly home.

This is our last post. Next blog will be in January when we will be sea kayaking at the other end of the globe in Antarctica. Thanks for writing. So fun to read your comments around the dinner table at night.
---
Messages for this post
For: Jen and the rest of you
Safe travels back home y'all. Jen see you soon !
---
Jude - 8/30/2016
For: Mary Callaway
Dear Mary, It's been amazing reading the blogs and watching this thrilling adventure! Miss you and can't wait to hear all about it in person. Happy travels! Love , Anne
---
Anne Bryant - 8/30/2016
For: All
Have a safe trip home everyone. Please keep in touch
---
Bob coopet - 8/30/2016
For: Barb
Enjoy your last few days of adventure! We look forward to welcoming you back to hot and humid Rochester! Ready to go for a pool swim and sail on the bay? Brown jug here you come!
---
Tara - 8/30/2016
For: Jennifer
Great photo Jen! Safe journey home xxx
---
Patti - 8/29/2016
For: Jennifer
What a lovely photo Jennifer. You look wonderful!! See you soon. XO
---
Sara - 8/29/2016
No more comments are allowed at this time.