Viewing Post for: Greenland by Day Hike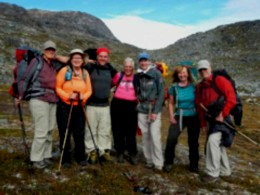 Date: Saturday, August 27
Location: Qagssiarssuk, Greenland
We are at Qagssiarssuk, Greenland. Or Eric the Red called it Brattalhid.

We all got up at 2 am and were whooping and hollering at the curtains of northern lights display. Directly overhead it rolled, showered, shimmied and streaked across the sky. Fantastic.

Then as promised rose at 5 am. On the trail, well there is no trail here, for our 8 hour return climb. The were moments when some thought maybe they would not make it. But we are back in the land of hot showers after our boat pick up.

Food, well, only a few houses in town, no cafe and store not open on weekends. So we are feasting on our food we bought Wednesday.

Stay tuned tomorrow for a history lesson of this famous Viking village.
---
Messages for this post
For: David G.
Hi, Dave -- Any good Inuit comedy clubs up there? I'm told the natives love glacier jokes. All the best to you and the gang. --Joe
---
Joe B. - 8/28/2016
No more comments are allowed at this time.