Viewing Post for: Everest Base Camp 2010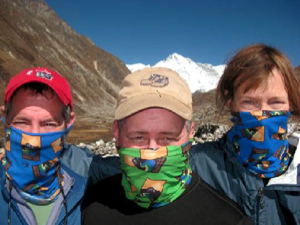 Date: November 10, 8:30 pm
Location: Phortse, 13,000 ft.
Well, some interesting developments to report. We called last night to where Tom W was supposed to be (reference earlier post) and he was not there. He arrived unexpectedly late to Khumgung in the dark. We contacted him by phone this am. He reported feeling pain in his legs and back yesterday. The group continued onto to Phortse, which was a 1/2 day hike. Rick and Kami went over and up to see Tom at Khumgung. We spent the afternoon with him. He is in some pain but walking okay. He is going to rest a few days and then slowly walk out. He is near Namche which was a 2 day walk in uphill and will use 4 to walk out. He is going with a Nepali porter.

Esther is going to join him in Khumgung tomorrow. She has decided it is a good direction for her to go. She feels good about the choice. We are glad to have Esther's medical skills to assist Tom.

The rest of the group enjoyed all the 02 at 13,000, some almost choked the air is so thick here. Tomorrow the hike gets harder building toward 3 straight very challenging days.

On a side note, Paul Artruc's sense of humor caught up with him. He is now duct-taped to a suspension bridge. Sorry Linda.

Wow! Time to go stand in the moon light and search for satellites. Sorry no map today as it is too dark to read the gps.

STATS AND STEPS
Kathi- Feeling better, functional again after a goodnight sleep
Patrick- Very uninteresting to report on. Strong like bull.

Other stats and steps, tomorrow.
---
Messages for this post
For: Esther
I am so proud of all you have accomplished and for making what i know had to be a difficult decision! It is always about the journey...... a toilet with a seat! Who ever heard of such a thing as that? The rest of them are ALL jealous i just know it! #2
---
LInda #2 - 11/12/2010
For: All
Beautiful day in WNY great to hear all your news,especially Esth and Tom are safe. I can imagine your pains with treking, pooping and all. God Bless. Great to hear you got Paul where you want him.
---
Mudflaps - 11/11/2010
For: Nightmare Artruc
Paul, was BLASTING Marshall Tucker Band on the way to work this crisp, sunny morning. quoting Gonna climb a mountain, the highest mountain, jump off ain't nobody gonna know. end quote. I think of you all, knowing that the days are getting harder as your heads and lungs get further into the clouds. I think of, pray for and am in awe of the hope and passion you all have as you rise ever higher. Thank you. Peace.
---
Martha Roney - 11/11/2010
For: Uncle Paul
Thinking of you, cant wait to hear all about your trip stay safe and enjoy this adventure! Love you!
---
Your favorite niece Sara! - 11/11/2010
For: all
I got to Khumjung this afternoon. Tom is much better. Sorry guys we have an indoor toilet with a seat!!!! and soon a shower. Hope you all do well and much success. Luv Esther and Tom W
---
Kili "tent Doc" and Tom W - 11/11/2010
For: Tom W, Esther, and All
Hey All (cont'd) Hey Esther..... -- especailly me being one of those knock yourself dead no matter how stupid types all my life. I'm taking lessons from you! And all you other fools: Pole. Pole. Love, Bon
---
Bonnie Lloyd - 11/11/2010
For: Tom W, Esther and All
Hey Tom, Impressive little hike for a newbie! Now you're ready for Kili! :) Seriously though, I'm sure it was a hard decision to make. But we all know what's really important -- just showing up for the cause and putting one foot in front of the other 'til it's time to stop, wherever that may be. Enjoy the rest of your time in that incredible land. Hey Esther, You're my hero always! Your can do/know when to quit attitude is sooo impressive to me -- especailly being one of those knock yo
---
Bonnie Lloyd - 11/11/2010
For: All
It's true about Meg's downstairs neighbor - I'm still confident that he's doing some sort of Kung Fu. (I'm realizing that you may read this before you read Meg's message in which case you're probably confused. Don't worry - You'll understand in a second.) Anyways... Good luck in the next three difficult days. You can do it - you are all troopers!! Just picture Bruce singing in your ear... "Just one Step, One Step More, Think of all the people you are fighting for." We actually got him
---
Sadie - 11/11/2010
For: Kathi
Sure glad you're feeling better - I knew that tea I drank would help you!!! Went to the ADK meeting tonight - on winter hiking and camping....learned a lot! I'm psyched for the ADK's now!!! Couldn't help but think of you when they showed all those slides of snowy mountains! Keep putting "one foot in front of the other" - O' and sorry about your tentmate - hope it wasn't your snoring!!! Love to all.
---
canoelite - 11/11/2010
For: Paul & The Gang
The majority of us spend a good portion of our lives focused on collecting stuff. But at the end of the day-it's just stuff and you can't take it with you. This journey, however, will be in your hears and souls forever! Paul - thanks for being the brother-in-law everyone wishes they had and the "richest" man we know!! Love you!
---
Laurie - 11/10/2010
For: Patrick
Annalie is in bed...We had a long train ride but she enjoyed it very much. Of course she made a few friends. Strong like bull, eh? That's my guy! Careful on your upcoming "3 straight very challenging days." Big hugs.
---
Robin - 11/10/2010
For: Tom W
11/10: Sabres 5, Devils 4. Roy scored in shootout. Cara's 11/10, 3pm Spot message shows her heading south 8 /- mi. north of Lukla airport. Hang in there! Best wishes!
---
Ron & Jane - 11/10/2010
For: Paul and Matt
Thinking of you and lifting you up each day. Love the pictures and reading the posts. Have a grand adventure and may God continue to be good to you. Love, AMN
---
Alice Miller Nation - 11/10/2010
For: To? All
Thinking of all of you. Enjoy every moment! What a beautiful place. Can't wait to hear all about it!!! You all take care.
---
From? Lori and Rick - 11/10/2010
For: Kathi
Kathi, keep on "truckin'". I'm with you in spirit. ie the head cold. We miss you and are sooo proud of you. Hugs, Nadean
---
Nadean - 11/10/2010
For: Darlene
Sorry to hear about Tom's injury. Hope you are doing ok with breathing at that altitude. Watch your step and please come back to me in one piece. Not much new here. Went to an estate sale in Buffalo today. Your e-mails continue to pile up and I keep deleting the junk ones. Keep enjoying your experience there.
---
Jesse - 11/10/2010
For: Matt
Hello - we are half way through til your return!!! So sorry to hear that Tom and Ester had to change plans - they are in our thoughts & prayers. We r having movie night tonight. We thought upon your return you could all publish a book about 101 Things to do with Yak Dung. Love ya!!
---
your girls - 11/10/2010
For: Esther
We hope you are doing well and are proud of your decision. Have a good trek and enjoy all of the great scenery over there! We love you!
---
Jeff & Emily - 11/10/2010
For: Bonnie & Jim
We are so glad to see your updates & progress. We had a good report from the surgeon today. I have a surgery date of December 9th. Katie's class enjoys watching your progress each day. Keep up the good work!!!
---
beth&michelle - 11/10/2010
For: Paulie
Hey daddio, I heard you're busy on the bridge...We miss you at home, and Lissa, Friskey, the sheep and goats too! I hope you're enjoying the air and view. Stay safe and love you!
---
Daughter #2 - 11/10/2010
For: Kathi
Glad you are feeling better! So you lost your new tentmate. Maybe I should come over there......well maybe just to the airport. Keep strong.
---
Laurel - 11/10/2010
For: The gang
What can I say about Paul? You knew about his humor before you left for the trip. If he's still cracking jokes, he must be feeling fine. I'm enjoying the peace and quiet at home! Just kidding honey!
---
Linda #2 - 11/10/2010
For: Everyone
I have this downstairs neighbor who makes a ton of noise all the time. Sounds like he's bowling or something. So I was thinking - when you all get back, maybe the whole group can come over to my apartment and we can do a zumba workout together? That'll show him!
---
Meg - 11/10/2010
For: Kathi
Kathi...good,good,good but your tentmate going...you better tell Ralphie and Thomas not to take over everything...thinking of you many times today...showed all here at work (Olga too) how you are and where you are...its sunny here finally...will go with Max/Kona and discuss your adventure..soooooo cool
---
brenda - 11/10/2010
No more comments are allowed at this time.