Viewing Post for: Everest Base Camp 2010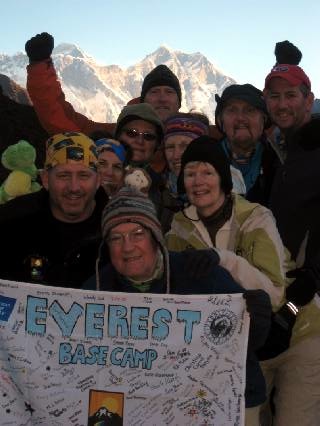 Date: November 4, Thursday 1 pm
Location: Namche Bazaar, 11,500. Rest Day.
So hard to convey what it is like to be here. Today we arose at 5:30 am and slowly due to altitude climbed 30 minutes to watch the sunrise quietly on Chomolunga, the brow of the world or more recently named Mt Everest. We went into a museum filled with stories and pictures of all the Sherpa people who have climbed and helped the westerns reach the summit. Back for breakfast, recuperation time, shopping around this steep town of stairs. About 8 am the steep empty streets filled with loaded yaks and humans heading up or down. Tom W. passed a friend, Kara, he knew from home. The town is changing. New hotels and stores are being built along the tight steps that serve as streets.

A joyous day, 3 cups of water barh, 5 cups to wash clothes in. Amazing meals, cinnamon rolls for lunch for example.

We thank you for the support and love you are sending us.. It is hard to be separated when the heart feels touched by the dramatic scenery, a monk chanting in the background and prayer flags fluttering next to you.

STATS
Kathi: muscle aches
02 92%
pulse: 100

Kathi:
02 89%
pulse: 93


---
Messages for this post
For: Dad
Of course you ran into Kara! Love you, looks like you are having an amazing trip! Can't wait to hear all the details. tessa is missing you, and says hello! Be safe, I will write again soon!I love you, Kate
---
Kate - 11/8/2010
For: Tom S
Keeping you and the gang in hearts and prayers as you ascend.
---
Sara Hrizak & Family. - 11/7/2010
For: flan
Now Patrick, don't get all crazy and try to run up the whole thing all at once... u know how u are... Your new media expertise has got to be a great asset up on the hill, hopefully the birds are at least tweeting, any service up there? Send us some pics! Be good, be safe, and watch where you're steppin
---
jh - 11/5/2010
For: Darlene
Hope all is well with you at the top of the world. It is cold with a rainy drizzle at our lower altitude. Tried to post a message to you the other day but it looks like it never got through. I called your mother and gave her the update on your trek. She is relieved that you did not fall off some cliff or suffer other mishaps. Gretchen and I both miss you and send our love.
---
Jesse - 11/5/2010
For: Paul Artruc
Heard something in church that has stuck with me. If Jesus were to pass us by on the road, or maybe on a MOUNTAIN, what about us would make him stop and look our way or would he pass us by? And He could be in anyone we pass. Maybe even in one of those yaks you are always dissing. At any rate, ima thinking he ain't passing YOU by Artruc but walking in your boots with ya. ROCK ON. Best to all !!!
---
Martha Roney - 11/5/2010
For: Esther and gang
Type your message here...Esther i sure hope those short legs of yours are getting you up the mountains and over the bridges! Oh they look scary! I try to imagine living the days right along with all of you.. the cold, the "zipzipzip" of the tents, snoring! Honestly i feel the minute to minute excitement of the adventure. Do you think Snickers would be able to do this hike? love to all - #1
---
linda #1 - 11/5/2010
For: Tom S
Dear, we are following your trip on the big mountain, we are proud of you and your traveling companions.Love Anneke and Egbert
---
Anneke and Egbert in the Netherlands - 11/5/2010
For: Allison
I have typed you 4 messages and I keep on getting booted off! Just want to say that Blaze and I are thinking of you. Blaze is up to 35 min. of running! We're patiently awaiting your return to hear all about this amazing adventure! Blessings. Hi to Darlene
---
Susan - 11/5/2010
For: Allison
Hola. Blaze and I have been running! He's up to 35 minutes! We're waiting for your return to help instill some consistent obedience in his life! :-) We're very excited to have a nice run/walk and listen to your stories. Enjoy yourself. Stay healthy. Say HOLA to Darlene. Blessings.
---
Susan - 11/5/2010
For: Matt
Girls night at the Flanigan's.. wine..whine..lots of love. We are thinking of you all as we enjoy a cozy fire and talk of fleece sheets for Christmas gifts. We miss you. Planning the next close to home adventure.
---
Alice Lori Char - 11/4/2010
For: matt
ladies night at the Flanigan's...wine..whine..lots of love. Wishin you were here but great replacements. Thinking of all of you as we are cozy by the fire and talk about fleece sheets for Christmas presents.
---
Alice Lori Char - 11/4/2010
For: Esther
Hope you are well. Great picture of Bristol Mountain in the background! Looks like the lifts can open tomorrow.
---
Jeff, Paula & Emily - 11/4/2010
For: All
Love the picture! Seeing my mom's name on Paul's banner brings tears to my eyebulbs and a smile to my face (the pink hearts give it a nice colorful touch).. Thanks for all that you do in becoming cancer's worst nightmare! Love you all, be safe, and keep on truckin' my friends!
---
Liz - 11/4/2010
For: All
So you'll probably get this right before day 5 which means you're about to climb Barranco Wall... oh wait. Wrong mountain? Well then I actually have no idea what you're about to do but whatever it is I'm sure it will be spectacular! Hope you're all staying strong and feeling well. Hopefully nobody has (in the words of Big Deal Meg) yakked yet. Stay strong and be safe! Thinking of you guys. Love, Sadie and Phil
---
Sadie and Phil - 11/4/2010
For: Tom W
Tom, Keep on truckin' Thanks for noting Cara - only day you'll be in the same place. Buffalo ate Bruin skate spray last nite. Nice photo, in your "L Blue" hat? Jane "mom"
---
Jane and Ron - 11/4/2010
For: Mom (Kathi)
I have been thinking about you alot n finally got on here to write. Kids are both good. Had fun trick/treating..Mya racked in alot of candy and Rafe got carried by Brittney n her sisters which he loved. Mya had her first soccer game n did alright but she said she didn't like how sweaty it made her. Talk to dad almost everyday n he is doing good but misses you. I love you and we r all so proud of you. I will try to give u more often updates. U r in my prayers everyday!!
---
Tommi - 11/4/2010
For: Kathi
Glad to see that Ralphie and Thomas are still hanging with the gang.Is your new tentmate as much fun as your old tentmate?
---
Laurel - 11/4/2010
For: Kathi
Hey-you got your poles out yet???? It might be time. thinking of you often...hiking every day thinking what a wonderful thing air is....you guys are doing great-but come on....shopping??????? did Hilary do that? ha ha really-what an astounding adventure...what a beautiful world..take care and don't look down(too often-but snatch a peak for me) brenda
---
brenda - 11/4/2010
For: Jim
Congrats! Just to let you know-- you called it right on the deer blind!! Two 8 pointers in one morning. both with one thing on their minds!! get back soon so we can go out and sit in the woods.
---
Dan - 11/4/2010
For: kathi
Well Kate and I have survived our first week and decided that we are taking up drinking and leaving all the work for you to do when you get back. Just kidding things are going ok glad to see you are having a good time looks to cold for me I'll stay here in the 50's. God bless you and your team mates stay safe
---
shelley - 11/4/2010
For: "Nightmare" Artruc and Gang:
Soo cool to see your updates, great pic today. Stay strong. Following you every day. Thanks for being cancer's worst nightmare. YOU ALL ROCK !!!
---
Martha Roney - 11/4/2010
For: For: Tom S.
Looking off the back porch at our "mountains" and wondering how you are tonight halfway around the world. Looking forward to good stories over cold beer. Carpe diem!
---
From: Kim & Fred - 11/4/2010
For: Patrick and Matt
Robin called me (she's keeping me posted every day) and I'll see the pictures when I go over to Robin & Annalie's on Tuesday.
---
Mom - 11/4/2010
For: To? the gang
Ahhhh do I miss those midnight pee runs, babywipe baths, you get cin rolls...we had hot dogs for breakfast. You guys are awesome. Look up often and take it slow! Thank you for all you did to get there! God bless!
---
From? Ginny Napier kili 10er - 11/4/2010
For: Patrick
From Annalie: I love you daddy, very very much! Exclamation point! Exclamation point! Exclamation point! From Robin: When I read the update today on what a beautiful day you've had, I cried. It must be so overwhelming to be among such fantastic scenery. Wish I were there with you. SO HAPPY to see your face in the picture!!!
---
Robin & Annalie - 11/4/2010
For: Paul
Hey Artruck! Hope you enjoyed your day of rest? Did you find something nice to bring home for me?? and I don't mean a Yak! All is well here. Miss you and love you. checking in during my classes. Kids are excited for updates.xxoo
---
Linda - 11/4/2010
For: Matt
p.s - It was nice to see your smiling face up on the website! Mom almost didn't recognize you with the beard and when she figured out it was you she laughed! The scenery looks beautiful, and everyone looks to be enjoying themselves. We love you very much!
---
your girls - 11/4/2010
For: Matt
Hi Dad! We were so surprised to open up an e mail from you today! It made all of us smile! Mom sent one back, but since it isn't your account she didn't know if you'd get it. We're having a nice home cooked meal tonight, mom's busy in the kitchen. Teagan and Michelle are up stairs studying for a bio test tomorrow, and I'm just working on some homework. You aren't missing much, but we sure do miss you! Your journey sounds spectacular so far and we can't wait to hear all about it! 143
---
your girls - 11/4/2010
For: The Happy Happy JOI JOI Gang
As I send you this note I can imagine you all tucked away in sleeping bags under the stars in a sound sleep dreaming of the journey ahead. Oh wait, I mean I can also imagine the "zip, zip, zip" of the tents, the dueling snoring and the faint smell of yak! Either way, you all look wonderful and I hope you are feeling well. I hope you had (or have) a nice hike to your next destination. Please give my respect to Norgay. xo
---
Kili Karen - 11/4/2010
For: Tom S
Hello Tom! We are sending our love and prayers to keep you warm and safe. Celebrate each moment of your incredible journey! Love, Mary and Greg
---
Mary and Greg - 11/4/2010
For: Tom Walker
I saw your doppleganger at Wegmans today. Are you sure you're in Asia? I think you're just hiding out in Webster. Nice photoshop on the picture with some moutain in the background...
---
Meg - 11/4/2010
For: Flanigap
Patrick! How are you? We miss you! The War Room is entirely too quiet without you! We just had the swearing-in ceremony for Tom Richards. Short and sweet. Speaking of sweet, I want cinnamon rolls for lunch! SO jealous. Be safe.
---
KHOP - 11/4/2010
No more comments are allowed at this time.