Viewing Post for: Everest Base Camp 2010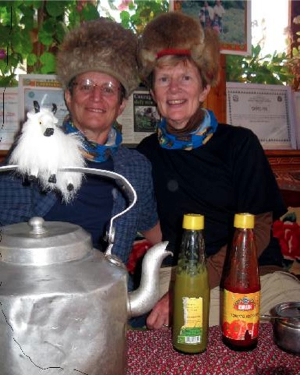 Date: November 5
Location: Thame, 12,750 ft
Here we are living it up in Upper Thame. Very neat l walk today - saw a monastery in progress of construction, an unobstructed, birds -eye view of a river, in NING PA LA VALLEY which starts in Tibet. Everyone doing great!

STATS AND STEPS
KATHI-feels and looks great;
O2 89%;
Pulse: 95
PATRICK-feels good and he knew that he would;
O2 90%
Pulse: 96

Number of steps today: 14,310
---
Messages for this post
For: Bonnie and Jim
Not getting to see many pictures. The audio we couldn't hear. Maybe tomorrow. Be safe. Love ya
---
Sylvia and John - 11/7/2010
For: Esther
Nice Yamuka!
---
Stephanya - 11/7/2010
For: Bonnie & Jim
Hope you're loving the adventure. It sounds great. I would LOVE to see more photos too. We are thinking of you both. Have fun.
---
The Angels - 11/7/2010
For: Paul
Hi Dad!! I hope everyone is enjoying themselves on the mountain! We all really miss you and hope you come home safe! Love you Daddy! Say HI to everyone for me!
---
Emily - 11/6/2010
For: Esther
Enjoy, Esther! We'll be following you. Glad to see your happy face so high in the air.
---
Alice & Ralph - 11/6/2010
For: JOI Crew
Getting ready for the morning JOI hike and thinking of you guys hiking near the top of the world. Stay strong and enjoy the scenery. Glad everyone is feeling well so far. I didn't see Tom S in the group shot. I hope he was taking the picture. How is the knee holding up Tom?
---
Carroll '08 - 11/6/2010
For: Alison
I wish I had sent you with an piece of paper or fabric and a Sharpie. My friend, Kate, lost her sweet son to drug addiction this past summer. Henry would have turned 18 last month. Friends all over the world are writing Henry's name and holding it up in all the beautiful, wonderful places so we can imagine Henry there. If you can find something to write on, take a picture of just the sign with "Henry" scrawled on it. It'll mean so much to his mom.
---
Holly - 11/6/2010
For: Alison
Alison, we are all so proud of you back here at the Coalition! Not that you needed to go this far to inspire us. :-)
---
Holly - 11/6/2010
For: Nightmare and Gang
Up before the sunrise here in NY trying to imagine what sunrise must look like there? I think about you all living and breathing this dream --- with such pride and admiration for all of you. THANK YOU for the difference you make. Stay strong. Peace !
---
Martha Roney - 11/6/2010
For: Tom S.
Even though we haven't written before now, we've been thinking about you and wishing you and the rest of the climbers the best on this amazing journey! We are very much looking forward to seeing all the great pictures and hearing all about your trip.
---
John Mary Ellen & fam - 11/6/2010
For: Matt
All is well here. Alisa was the garden fairy today and I came home to a clean lawn w/o leaves - wow!! Frinds and family loving reading the posts - you inspire us and they are all helping us! Your Mom sends her love!!
---
your girls - 11/5/2010
For: Tom S.
Wishing everyone a great and memorable trip. Be safe and have fun.
---
Jennie - 11/5/2010
For: Rick
heyyy! why do they get a map and we didn't? well swimming sectionals were today and mercy got the sportsmanship award for all of section 5. sutherland volleyball beat mercy in sectional finals. penfield lost to webster in volleyball finals. hmm i think thats all the updates we got for you! have funn!
---
Maggie and David - 11/5/2010
For: Bonnie
Holy guacamole, I want a hat like that!!
---
Liz - 11/5/2010
For: Alison
Woodcarvers are following your progress. Still can't believe you can email from remote Himalayan villages but the pack can't be fixed with duct tape! The pictures look much nicer than Google Earth. EnJoy!!!
---
John - 11/5/2010
For: Darlene
Tim & I just returned from a great dinner at Sips and I thought I would check the web site for an update on your group. Hope you are all eating well and enjoying life. The Gold Rush group will be missing you & Allison at tomorrow's run, but the weather here is so miserable (high of 40 tomorrow with more rain)that you are lucky to be in balmy Nepal. Don't lose your meds and please enjoy yourself. Love from this side of the world.....
---
Jesse - 11/5/2010
For: Esther
Looks like all is going well, except that the altitude sure causes hair to grow oddly, or maybe it is that stuff in one of the bottles on the table.
---
Jeff & Emily - 11/5/2010
For: Esther
That hat looks like the 'fro you sported in the 70's! Give Paul a big sloppy kiss for me. Miss you all and wish I was there!
---
Linda #2 - 11/5/2010
For: Esther
Love the hat. Where do i get one? Can't wait to see all the pictures with the yacks and all. Hope they are not making you work to hard.
---
Eli - 11/5/2010
For: Patrick
From Annalie: I wish you could've gone to the art exhibit with us. From Robin: Only feeling good? Maybe tomorrow you'll feel great! I keep looking at your picture from yesterday. Write lots in your journal for me. Love you!
---
Robin & Annalie - 11/5/2010
For: Bonnie&Esther
HOW MUCH I MISS YOU and wish i were with you!! I don't know if this will reach you but i've been trying to send msgs as have many others. Of COURSE i'm thinking about you and praying for you. I know how much these messages mean! Love you both.
---
#1 - 11/5/2010
For: Matt and ALL...
Thinking of you all on the Mountain. Love reading your updates and trying to picture what it's really like there...can't wait for the "Flanigan photo fair" to see where you all are lucky enough to be right now...Thank you all for what you are doing - I've talked to some cancer survivors the last few days and shared what you've all undertaken to support the American Cancer Society and their appreciation is so great it's almost tangible. You are truly making a difference and inspiring s
---
Gerianne - 11/5/2010
For: Paulie
Hi daddio everyone is asking about you at school. Please don't fall off the mountain. Enjoy, have fun, stay safe, love you! (p.s. Take a picture of a yak for me)
---
Daughter #2 - 11/5/2010
For: Esther
please don't bring that hat home anyways...the scenery looks nice. enjoy.
---
Paula - 11/5/2010
No more comments are allowed at this time.