Viewing Post for: Fire and Ice: Iceland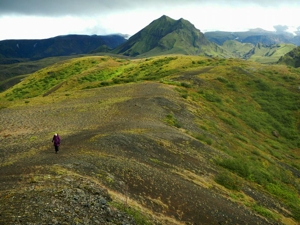 Date: Monday, August 15, 6 pm. 6 hour hike.
Location: The amazing Porsmork National Park
Currently sitting in lodge typing.

So last night they were calling for high winds and heavy rain. The vehicles left so as not to be stuck here. It did get rainy and windy, but not too bad.

So we rose to hike an amazing ridge. As we ascended you can see two huge icecaps and the descending glaciers across the precipitous valley. Gargoyles, trolls and other shapes drifted in and out of the mists on the lava flows we were walking.

We ate lunch in the Trolls Cathedral to stay dry. No wind though and a great hiking temperature. One group went to summit and as they did the sun pushed through the clouds. Fantastic. So hard to describe the beauty here.

Hopefully the river has crested so we can leave tomorrow.

We will let you know.
Mary C. Mary C is here and getting your messages
---
Messages for this post
For: Mary C
Stopped at your home today. Talked to Helen. All is well We finally got some decent rain here. My flowers are happy. Enjoy all of the beauty you are seeing. Miss you Kathryn
---
Kathryn g - 8/16/2016
For: Barb
Can't wait to see you pictures!!!!
---
Bethy - 8/16/2016
For: Mary Callaway
Thanks to the good fairy who acknowledged that messages are getting through - is there some means of having messages returned from the North? Today, right now, it's pouring with rain and it's delicious. Tonight I meet Paul and Helen (Irene is begging out) at Amore's which is good. All is going well. There is a new movie with Meryl Streep I want to see this weekend - it was a GEVA play that was wonderful. Carry on, and return a message or two, dearie, if and when you can. love,love, Mary
---
Mary Critikos - 8/16/2016
For: Barb
This sounds beautiful! I can't wait to see photos! We are all thinking of you. My roommate even asked me how your trip is going. Love you!
---
Katie - 8/15/2016
For: Mary
We missed you this morning. Our week on Chincoteague Island was relaxing and it sounds as if your adventure is anything but! I have your notecards and when I drop them off I'll bring my laptop along to show Paul the photos. Love Karen
---
Karen and Steve - 8/15/2016
For: Bob
Wow! I bet you were one who climbed to the summit! That must have been amazing! Hope you are taking some pictures! Everyone asks me how you are enjoying Iceland! Have a good night and a great day tomorrow! Love, Rose
---
Rose - 8/15/2016
For: Flo
Looks like your having an amazing adventure - are you able to write anything on this post?
---
Lauren - 8/15/2016
For: Barb
We could still use some of that Iceland rain! I had a fun swim across the lake and made it up and back from Old Forge on Sunday. It also poured there. The boys are safely in CT and I am back at home with Todd for a week of...studying...so much work! The ridge in Iceland looks amazing. I hope you are having a wonderful time soaking in all the amazing views. Hopefully you do not need to build a snow cave. xoxo Tara
---
Tara - 8/15/2016
No more comments are allowed at this time.