Viewing Post for: Fire and Ice: Iceland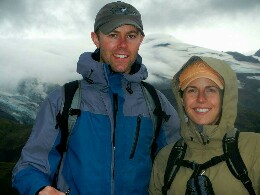 Date: Sunday, August 14, Day 2.
Location: Volcano Huts, Porsmork National Park
Yes, we are all here. Yesterday was an amazing day of just making it under the wire. Karla, our 3rd driver, was delayed by a day. Made it interesting as we needed to find a way to get het the next day, get a car....
So we combined the last group with this group for a group of 20 on a whale watch.
Then the new group headed out to start the trip.
We made it just before the vinbaden, liquor store closed, the grocery store closed so Dan got online and we rushed to the next town to shop for food. Then barely made it to the hotel before it closed for dinner.
Today, the clouds lifted for great views, crazy river crossings were low enough to get to the huts. And best, Marcia got Karla at airport, flagged a truck down to avoid swimming the river and the gang is all together. We climbed for a great view. I think a great thing as tomorrow is calling for a storm.
We may not be able to get out of here if the rivers flood.
Stay tuned
---
Messages for this post
For: Mary Callaway - #360703
dearie, I just returned from dinner with Paul and Helen at Amore's - we each had asparagus with their white pizza and nothing was left on our plates - Helen took some pizza home, but Paul lapped it all up together with some vanilla ice cream for dessert. He was rested and looked well. I swung around to FedEx on the way home, but they were closed. They were to return to Stonybrook and Paul to bed. We did have glorious rain and now it's stopped. Will continue with the updates. Love, Mary
---
Mary Critikos - 8/16/2016
For: Nikki and Dan
What a nice looking couple... in that picture! Sounds amazing!! And interesting...lol xoxoMom
---
Mom...Patty - 8/16/2016
For: Barb
Hey Barb! You're off on your next adventure! How awesome! You are courageous and adventuresome! You're my hero! Love, Your Sister :)
---
Pam - 8/15/2016
For: KARLA
GLAD YOU FINALLY MADE IT. LONG TRIP WITH ALL THE DELAYS. WEB SITE LOOKS GREAT. WILL CHECK DAILY. HAVE A GREAT TIME.
---
DAD - 8/15/2016
For: Barb
Wow, sounds like the trip is off to a rushing start! It's a good thing you packed the inflatable dolphin in your less than 30 lbs to stylishly complete those river crossings.
---
Todd - 8/14/2016
For: Bob Cooper
Bob and Barb! Hope you are doing great and enjoying your adventure! Looking forward to hearing all about it and seeing some photos! Love, Rose
---
Rose Cooper - 8/14/2016
For: Barbie
It sounds like you are having real adventures! I hope you are feeling good and having fun! Carol and I saw someone who looks like you today. Xoxoxo
---
Katie - 8/14/2016
For: Mary Callaway
...where are you, dear girl. I expect you are in this mixed group - if you can - will you please reply somehow so I can get your messages over to Paul. Irene and I had lunch today at Canandaigua and the weather was perfect for outdoors eating at the upstairs Wegmans offering at the New York State wine & Culinary Institute. Keep trekking for us all, love, Mary
---
Mary Critikos - 8/14/2016
No more comments are allowed at this time.