Viewing Post for: Mongolia on Horseback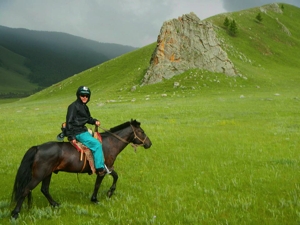 Date: Wednesday, July 20. 2 pm.
Location: Fairfield Inn, Tsetserleg, Mongolia
Horse racing. Forgot to mention yesterday. We ended our trip by doing a day ride from our guide Chidre's gher. And we raced. In pairs, in trios, we took turns experiencing the sense of freedom of a fast gallop over hard ground, wind blowing, cheering our horses on faster.... Exhilarating !
Today most slept late, worn out physically and emotionally from a serious two week ride.
At the end of the day we traveled an hour by van to a developed hot spring. What a soak we had.
Many are writing, reflecting and trying to absorb what each of us experienced. It is a strange transition from gher to town. Yet Tsertserleg is amazing as we spend time in its markets, watching people who live here drag water jugs in carts to the streams for drinking water at the edge of town. Kind of feels like a wild west sort of place.
More updates tomorrow.
---
Messages for this post
Currently there aren't any messages for this post.
No more comments are allowed at this time.