Viewing Post for: Mongolia on Horseback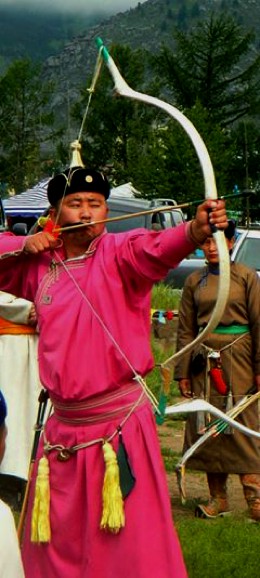 Date: Thursday, July 21. 3 pm.
Location: In the back of a van With potholes all over on van ride 8 hours back to Ulaanbaatar.
Typing is a challenge. Last night we road in the van across the fields for an hour before suddenly ending up at a hot spring resort. The soak finally cleaned us and some took the opportunity for a massage.

Went to a large Nadeem festival as we left town today. So cool looking at how everyone is dressed. At one point the driver ran to get us as a very famous and very huge wrestler got out of his car for the parade. We slid in for a picture and he chatted in English with us.

Watched fanciful dressed archers compete in long bow competition. Then headed into the middle of the country side for a 25 km horse race. As we pulled up the van was surrounded by horses and 10 year old jockeys. Apparently this is the first year helmets were required and some of the riders had none. We dug into our luggage and they raced off to catch up with the pack. They ride the 25 km out in 1.5 hours, then race bare back in 30 minutes. While we waited we ate lamb meat fried pancakes and watched all the wonderfully dressed people.

Tonight we will back at Ulaanbaatar for two nights before we fly home. This will be the last blog post. Thanks for following. Your friends and family will have some great pictures to share and stories to tell.

Our next blog will be from Iceland and Greenland and starts in just over 2 weeks.
---
Messages for this post
For: Jennifer
Very much enjoyed reading about your unbelievable adventures! What an accomplishment. How wonderful! X O
---
Michele - 7/22/2016
No more comments are allowed at this time.