Viewing Post for: Raising Voices, Raising Roofs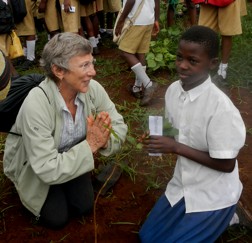 Date: Monday, May 23
Location: Moshi, Tanzania
We are staying in Moshi, Tanzania, located on the lower slopes of Mt. Kilimanjaro. It is the highest mountain in Africa. Moshi is one of the newest cities in the country and one of the largest boasting of gold production, agriculture and tourism. Moshi is also the most improverished areas in the world. We learned that the average monthly income is $150/month.

Today, we went across the tracks into a village where squatters on government land survive. There is no running water, electricity, roads and homes are made of what can be found to form four walls and a roof. This is Yusuf's old village. Ten years ago Yusuf planted 3 trees and promised one day to return and plant more trees to provide shade and beauty.

Today was the day we were honored to share his dream.

We helped purchase 1,100 trees along with the village development group. To our surprise and delight the simple act of planting trees turned into community wide event that included 3 schools, residents, and local government officials.

Pictures this. It's raining, we are walking through the village of mud roads carrying trees to the middle of the village when 100s of children from 3 different schools walked into the village to help carry them back to there school.

The village planting started with a planting of a tree dedicated in each of our names. A hole was dug and each of us along with a member of the community lowered and covered the tree together. We spent the day working side by side, hand in hand with school children and adults empowering them to beautify their community.

We became part of the community. We shared dirty hands, laughter, singing, hope and joy.

Whether it came from tears or rain, there was plenty of water for the new trees. "Bibi Bonnie"
---
Messages for this post
For: bonnie
wow,sounds like a very powerful day, full of every emotion! 1100 trees is hard to imagine, even one tree changes the feel of a landscape so drastically! a great dream! are all children able to go to school? sounds like another place in the world that needs the love of 4 walls! loved the description of the shy mountain from yesterday, hard to believe all the diversity of Africa- mountain, desert,jungle, ocean & all of the people and customs of each! so happy you are making the CONNECTION!love
---
maria & mark - 5/25/2016
For: MAria
What a gift to the community..what a blessing to all! xoxo
---
Gloria - 5/25/2016
For: Maria
So inspired by your planting trees in Africa. One of the first things I remember hearing is how Granpa Gillard Planted the tree across from Shampines that City of Fulton always lit up for Christmas. Poems are made by fools like me but onlygod can make a tree. Joyce Kilmer
---
Meg - 5/24/2016
For: Karen
What amazing adventures!! Have I told you lately that you're my hero?! I say it often because you're always making lives better for those around you and making amazing memories at the same time. Safe travels, sister! xoxo
---
Julie - 5/24/2016
For: Lynn
Heartwarming post.. Such a meaningful day..a very rich one indeed. You know this is right up my alley Lynn. Well I see I dont have to worry..you're surrounded by love
---
Jeannie - 5/24/2016
For: Lynn
Dear Lynn, This post warmed my heart with the description of what you all accomplished today. The goodwill and love must have been palpable. Kudos to all of you for doing God's work! Hope you are well Lynn and enjoying each day. Eat some goat for me!! Best to all of you!
---
David - 5/23/2016
No more comments are allowed at this time.