Viewing Post for: Inca Trail 2015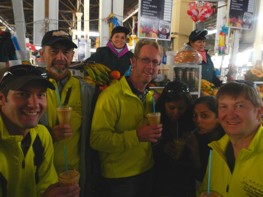 Date: Tuesday, August 18
Location: Cusco, Peru, 10,500 feet.
A day of exploring and transition. We sadly sent Mike, Harry and Juri back to the USA today. Our assistant guide came upon 3 of our group lost in Cusco and helped them find the hotel again. So we got to say goodbye to him again.

Several members of the group took supplies out to an orphanage. TJ and Torrey and Curt taught the kids some gymnastics.

We explored museums, chocolate shops and markets. A highlight of the market as seen in the picture is the jugo especial. Our new friend made us a drink containing juice of orange, banana, papaya, mango, carrots and honey, Maka which is a potatoes powder supposed to make you more viral, pollen, Chia seeds and a bottle of dark beer. Put it in a blender and it serves 8. All for 4 dollars.oh, we skipped the raw egg in there. The market was a fascinating slice of the local life.

Lunch and dinner were culinary treats. Funky restaurants with Peruvian fusion food.

I am a little sleepy as I write because some of us, I won't mention Curt, Beej, Soha, Torrey, and TJ s names went dancing at a local disco until 1:30 am. We were hungry after all that dancing so went to McDonald's for french fries.

Tomorrow onto Lake Titicaca. Stay tuned.
---
Messages for this post
For: Soha beej
Very nice to know u have party with disco and beer too u have a all kind of experience to mingle with local people I am glad enjoy the rest of the trip we saw today a2 and Meera we r happy so far so good love u and miss u love mom
---
Mom - 8/19/2015
For: CURT
a lifetime!
---
Calling card woes - 8/19/2015
For: Curt
Says your Buffalo, NY cell # is in Russia which is not part of the international calling card plan…agent told me to contact u to make sure you are really in Peru! If able, please forward your new hotel landline # & the girls will attempt to contact u again tonight at the time u specify. Tomorrow 7:30 a.m. EST Rae will call and 8:30 a.m. EST Hope will try. How cool u & others went dancing the night away! U got a head start on the upcoming disco in Nov! U r all having trip of
---
Calling Card Woes - 8/19/2015
For: Torey and TJ
Sounds like a wild night last night!Tor, I hope you are feeling better.Things here are crazy,but we are managing.Can't wait to hear more stories and about all your incredible adventues.I hope that the two of you have not made any plans for an upoming adventure in the future,an adventure at home would be a great idea:).Grandpa is doing better,I am going down to see him as soon as I finish this.Try not to worry.We miss you so much and love you to the moon and back.Love Sharon and Forever Jacquie
---
Sharon/mom - 8/19/2015
For: The group
Harry and I made it back at least to Newark so far. I slept more last night on the plane than the last six nights in Peru. I guess I didn't forget after all. Enjoy the rest of the trip. We'll be following you. Keep the nightclub economy booming. Jurij
---
Jurij - 8/19/2015
For: Soha & Beej
Aarav and Anjali went to a wedding in Chicago last weekend, they t0o went dancing and Aarav's phoi took a video of his performance. You will enjoy it when you come home! I think Aarav can probably teach you a few moves. They both are doing great and getting ready to start school at the end of the month. Sweet corn at the farm is done for the season, other crops are looking very good due to the good weather and timely rains.
---
Dad - 8/19/2015
For: Rick
You are one very lucky man, you have a special talent to explore the world & the compassion to preserve vast natural beauty for generations to come. You are a good leader because you take many of us on trips, where we get the opportunity to enjoy nature, but most importantly, learn about the local culture, meet people of various walks of life, at the same time give us a chance to share American values with them. I hope you continue this important mission for years to come. May God be with yo
---
Damaroo - 8/19/2015
For: Torey and TJ
I'm not at all surprised at any of this! So glad you're enjoying all of it. Can't wait to see you both. Take care of each other and come home safe.
---
Christine - 8/19/2015
For: Beej & Soha
So glad to know that you are enjoying the trekking, sight seeing and disco dancing and some local beer (he said that hesitantly). Learning how nature blends with local culture is an important lesson for a successful life. I wish you both and the rest of the group a very enjoyable rest of the trip. Hurry home, all is well here. Little darling Meera keeps her mom and dad on their toes, demands their full attention with affection and love. Love, Dad
---
Dad - 8/19/2015
For: Uncle Torey & TJ
Yup, disco & McDonalds is the way to go! Nothing beats it. Again, sounds like you guys are having a blast. It's tough saying good-bye to new friends but the memories you make along the way, will last a lifetime. We miss you guys but keep having fun, eat, drink, laugh ... Do it all!!! We love you. Always BELIEVING
---
Moo & Blake - 8/19/2015
For: Torey & TJ
Yep, sounds just like you guys to find a place to rage while in Peru! Jacquie is so proud that, in the absence of Mighty, you found a McDonald's for after party snacks. :) Enjoy this last leg of your trip, looking forward to hearing all the stories in person!
---
Kristen - 8/19/2015
For: Jim, Curt, Torey, and all
How was the beer concoction??
---
Pete Stecher - 8/19/2015
For: Soha & Beej
A disco?!? Does Beej even know what a disco is!?! How, um, 1970s is that ladies!! :) Don't worry Rick, I have a hard time keeping up with them too! Sounds like everyone is having a grand ole time... Can't wait to see all the pictures when you get back.
---
Sona & David - 8/19/2015
For: Soha and Beej
Am so jealous you had french fries... I can't :( :( yay for partying.. All good with us.. Enjoying my time off with Aashna and mom! Can't wait to see you when you are back... Have fun.. Hugs
---
Vini - 8/18/2015
For: Curt
The writer in me hopes you are keeping a journal. Want me to throw a southtowns picture viewing party when you return? Enjoy the rest of your trip then home safe. Jan
---
Jan - 8/18/2015
For: Curt
Wonderful to hear, glad everyone is safe and enjoying the many facets of the culture. Waiting to hear of the new adventures.
---
Mandis - 8/18/2015
For: Soha & Beej and the group :)
GO PARTY ANIMALS!! :) Sounds like a fantastic day exploring the city.. Can't wait to see all the pics and hear all the stories! All is good here in Ohio and with the family all over. Fantasy Football draft is September 5th!! Soha sign up.. Love ya!! :)
---
Ruchi - 8/18/2015
For: Beej soha
Ways good to seem in the FaceTime minis Soha though but glad u had a good time now it is easy traveling enjoy miss u and love u both hello to group mom
---
Mom - 8/18/2015
For: All
Enjoy the rest of your trip- I will see Harry tomorrow!
---
Shannon - 8/18/2015
No more comments are allowed at this time.