Viewing Post for: Inca Trail 2015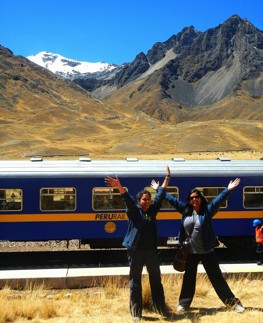 Date: Wednesday, August 19
Location: Train to Puno
10 hours of crossing the amazing Andes.

We went up to 14,000 feet to a lovely pass, see the picture. The train is a luxury train loaded with people from all over the world. A local band played and had a folk dancing and we danced. We learned how to make pisco sours and then had a happy hour on the open back deck of the trail. Out the window, we are in the antiplano area. Lots of brown grass, very steep mountains, towns of brown adobe brick, farmers working with hand hoes, occasional gigantic glaciated peak and fields filled with alpaca and llamas. We sip our cappuccino on the back deck or beer and watch it all pass by. We get to Puno, on lake Titicaca in the dark and head to our hotel.

Tonight we sleep in a hotel, explore Puno and prepare for our overnight on Lake Titicaca in local people's houses after visiting the Uro people on their floating reed islands.

It is very exotic to travel in the Andes like this.
---
Messages for this post
For: Beej & Soha
Yup sign me up for those pisco sours too! Now we know what Beej will be making while Soha is running in a couple months! :-) Loving all the pics on Facebook and here! No doubt you're having a blast... You both deserve it so keep making memories! (Oh we had the fun company of JituMama and RaganiMami - so great to see them after so many years - we talked about you ;-) )
---
Sona - 8/21/2015
For: all
It seems like forever since Peru already. Great time with all. Hope to see all again. Don't forget we need to push for wow-we-see-mo...in new dictionary...
---
mike - 8/20/2015
For: Uncle Torey and TJ
Hey guys! Looks like you are having a great trip! Can't wait to see the pics when you get home. Everyone is missing you and can't wait to have you back stateside. Love to you all
---
Danielle - 8/20/2015
For: Jim & All
Hey Dad! I'm glad you're having a great trip! Can't wait to see your pictures when you return. I'm glad to see you found time for beer and discos even though your so far from home :) Love you! -Lizzy
---
Lizzy - 8/20/2015
For: Mr. Torey and Mr. TJ
Hi Mr. Torey and Mr. TJ, I miss you and can't wait to see you back at the gym! Hope you are having a great time!! Love, Kailey
---
Kailey Garver - 8/20/2015
For: Rick
Enjoy the experience because you come back to reality real quick. I have to replace a wax ring on my toilet this afternoon.
---
Jurij - 8/20/2015
For: Soha & Beej
Pisco sours - I expect a demo and tasting when you return! Beej - Don't worry, you will not go home to a dirty place. It's covered. Soha - Your house is also still standing, that's about all I can attest to :) Saw sweet baby Meera yesterday, looks like P&S are getting into a groove BUT then she throws them a curve ball, always fun and exciting! Soha you've checked off 6 continents with this trip!! Beej, you've got one more - I'm sure Rick goes there too! Love ya!
---
Ruchi - 8/20/2015
For: Beej and Soha
It looks like you two are having a great time. Great picture in front of the train and mountains. It has been pretty cool to see and read about all the places you've been able to visit. I can't wait to hear all about it. Who Dey!
---
Kyle - 8/20/2015
For: Rick and all the family
Hello all, safely back in Fairport yesterday afternoon. train ride sounded great. Fondly thinking of all the fun of the past week and a half. Already having trouble remembering the facts. I know it is 3,000 varieties of potatoes but was it 2,000 ways to cook guinea pig or ways to make pisco sours. Speaking of facts, you will be happy to know that I have already applied for a copyright on the "Rick fact/essence meter". Please continue to use it and tell me if you hear a Rick story with
---
Harry - 8/20/2015
No more comments are allowed at this time.