Viewing Post for: Inca Trail 2015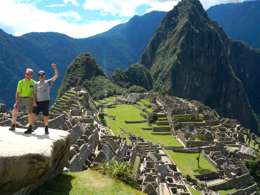 Date: Monday, August 17
Location: Machu Pichu, and return to Cusco
Fantastic morning touring the world-famous Machu Pichu. Hard to explain the quality of the stonework and how extensive the complex is. Truly a wonder of the world. We rose early to arrive before the hordes that visit.

Then 8 of us climbed 2 hours and 2000 feet above the site to a mt peak, called Machu Pichu. Incredible. We were surrounded dedicated by mountains, glaciers and below us spread on the pinnacle of the hill was the whole city of Machu Picchu.

Wonderful lunch and then we boarded the train to Cusco. We switched to a bus for the last leg arriving very late.

Tomorrow is sad, we lose Chino our guide and Harry, Juri, and Mike start back to the USA.

Stay tuned for the rest of our adventures as we had to lake Titicaca. ....
---
Messages for this post
For: Sue & Bob
Great time had by all. We golfed this morning, I let mom win:). She will catch the train tomorrow Take care
---
Bill & Shirley - 8/18/2015
For: Beej
Looks and sounds amazing! Since I haven't read about any DFOs in the posts, I suppose you're fit as ever. Can't wait to hear all about your journey when you get back :)
---
Shalanda - 8/18/2015
For: Torey and TJ
Go glad you had this opportunity! Make lots of memories. Take it all in and store it in your mind. Because words can't describe it, and pictures can't do it justice. Miss you a ton. Enjoy the adventure and come home safe. PS - I got a text from Shelby still looking for daddy!
---
Christine - 8/18/2015
For: Mr. Torey
Hi Mr. Torey! It sounds like you are having an amazing adventure! I can't wait to her about it when you get back. Have fun!!!
---
Kennedy - 8/18/2015
For: Soha & Beej
Hey SILs, sounds and looks like you guys are having a great time out there. I here the most recent hike was a bit difficult but no doubt you made it. Enjoy the rest of your trip, keep posting those pics and we'll see you soon.
---
The worm - 8/18/2015
For: Tor and TJ
Hello from up north! It was great to hear that the texts are finally getting through.I'll have you read my phone when you get back so you can see all the ones I sent that you didn't get!We are so proud of the two of you and the amazing journey you have undertaken.Very few will ever have the chance to see a sunset like yours and see history in person.Your mom and dad send their love,as does Shelby. Jacquie and I miss you and we love you so very much.Be safe and enjoy your time together.
---
Sharon/mom - 8/18/2015
For: Torey & TJ
I think the mountain you are climbing sounds like a animated figure like Pikachu. Kaitlyn; Domenica and Alexis are at Woodward but there is a terrible tragedy - KT does not have cell service - I'm surprised she hasn't called for me to come get her :) I'm sure you are having an amazing time and taking lots of pictures.
---
Tonya Gary & Kaitlyn - 8/18/2015
For: Beej & Soha
I caught the pics posted on facebook. They look amazing, can't wait to see more from the Lake tomorrow.
---
Sammy P. - 8/18/2015
For: Soha & Beej
Hi sistas!! How cool that you had a chance to wander and have Machu Pichu almost to yourself?! Were you part of the 8 that hiked some more?! A2 have a bit of a cold so they haven't had a chance to meet Meera yet, but facetimed with her :) P&S are in for a ride! Sohashah, lets get manis and pedis when you get back!! Beejie - can't wait to see you over Labor Day wknd.. Miss you sistafaces!
---
Ruchi - 8/18/2015
For: Torey and TJ
So glad to hear you both are doing well. We miss you and love you very much. We can't wait to see you when you come home. Gym camp is fun and I am having a great time. Daddy is taking care of all the lawn stuff and great news... Molly pooped on the potty again! We celebrated with M&M's! Looking forward to seeing you guys soon! WE BELIEVE!!!
---
Oliva and Molly - 8/17/2015
For: Beej and Soha
Sounds like y'll had wonderful day and now back to Cusco or is it Cuzco for Rest/Relax time. I checked out Puno and island you are visiting next on google. The island is like a small small rock in the middle of lake bordering 2 countries with population of 2000 and get it... Men do the knitting and women spin and weave . Have fun adventure Meera is home today with mom/dad/ in Her own crib bed.
---
Mayank - 8/17/2015
For: Soha beej
Hope u have a easy time to climb up and down u r looking amazing scenery will see pictures and enjoy it enjoy rest of the trip and safe back with love mom. Meets is home today
---
Mom - 8/17/2015
For: Raj
Congrats on making it up there dad! We are so proud of you!! Can't wait to see all the pictures and here about your adventures !! Love you
---
Nehal - 8/17/2015
For: Torey
Congratulations Torey! It's so amazing that you are doing this. Have a great time there and a safe trip back!
---
Declan - 8/17/2015
For: Jurij
After your "cool" experience, it's going to be a shock to return to the heat and humidity. Expect it to be near 90 when you get here. Travel safely. We'll see you soon.
---
Marie - 8/17/2015
For: Torey&Tj
Just got caught up on the posts. Sounds like you are all having an amazing time. This really is something to cross off the bucket list! Can't wait to see pictures! Have a wonderful journey, travel safe! Love Sheryl
---
Sheryl - 8/17/2015
For: Mr. Torey
I can't wait to see you back in the gym. I hope you are having fun!
---
Emily Waldron - 8/17/2015
For: Harry
What an incredible experience! I am guessing the pictures will not do it justice. Can't wait to see them anyway. Wow! A train...well, that's just icing on the cake (chocolate, of course!). Safe travels home.
---
Marianne - 8/17/2015
For: Harry and all
Sounds fantastic- were you one of the eight hikers? Must have been a truly magnificent sight! Nice that you got to ride on a train! Tell Jurij Peter wanted to know when you were getting back! Guess there. Is work for Jurij!
---
Shannon - 8/17/2015
No more comments are allowed at this time.