Viewing Post for: Inca Trail 2015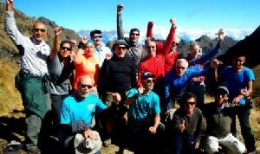 Date: Saturday, August 15
Location: Last camp on the Inca Trail
10 hours of hiking. 2 mountain passes. 13,500 and 12,500.

The picture is the group at 13,500 at the top of Dead Womans Pass Today is a list of comments.

Jim would like to thank his daughter Stephanie for the gifts of the poles. They saved his....

Torrey commented on the "easy" 10 hour day.

The views were beautiful. The steps felt like climbing a ladder. The Incas must have had 10 foot legs to make those steps. Breaks are better then hiking. Standing up after lunch is a bear. Weather was amazing.

WE MADE IT! We ended the day as the sun went down. Around us the gigantic mountains, many covered with snow and glaciers were lit up in changing colors as the sun set, huge white clouds billowed above. Dark came just as we walked into camp with our head lamps on and the southern cross came out.

Tomorrow we finish the Inca Trail and enter the sun gate at Machu Pichu. Stay tuned.
---
Messages for this post
For: Raj
Congrats for mAking it up there Dad. We miss you. Take good care of yourself!! Love u
---
Nehal - 8/17/2015
For: Curt
Looks like you are having an amazing trip. I don't want to brag, but we also did a hike that must have been a nearly 200 foot elevation and was over a mile long. Did it without a cherpa. But seriously, we hope you continue to have a great, safe trip.
---
Pete Lori Ry and M - 8/16/2015
For: TJ
Hi Love!! Sounds like you had an amazing and exhausting day yesterday, cannot wait to see the pictures. It was so nice to talk to you last night!! I miss you so much! We went to Sunday brunch today. I had a mimosa for everyone in your group, haha! Driving back soon, I'll be home by 10ish. I hope you had a great day today!! I love you!!
---
Amanda - 8/16/2015
For: Curt
So pleased u r where u r doing what u r doing. Drink deeply. Literally (if u found some good brew!) and figuratively (due to the love for culture/travel that dad & mom planted inside of you so long ago). Stay safe Hope was excited for tryout #2. They approved a 2nd travel team, 22 girls will make the cut rather than the original 11. Rachel has her tryouts tomorrow also. If u have access to a landline, just found out my cell has 100 free minutes to Peru if call placed from cell-landline#
---
Trace - 8/16/2015
For: Curt and Jim
Sounds like you all are having an amazing experience. Hopes second tryouts were today! Coincidentally, my AP world assignment that I worked on today was about the incas and Aztecs!! Miss you very much. stay safe and enjoy yourselves!!! xoxo
---
Hope and Rachel - 8/16/2015
For: Soha & Beej
Congrats guys - I can't wait to see some pictures from this, and all your adventures
---
Sammy P. - 8/16/2015
For: Beej soha
Congratulations to u both and group. Will remember this day for ever achievement and new comer in the family. We r a proud parents
---
Mom and dad - 8/16/2015
For: Torey and TJ
Hi Torey and TJ! Keep up the good work! The view must be amazing up there! We haven't gone to gymnastics yet since you left but we had a fun time in the Adirondacks! Hope you have a great time and stay safe! We miss you!
---
Savannah and Madison - 8/16/2015
For: Harry
Harry, You did it! Congratulations!! When you are tired from sitting for so long on our RV trip, you can fondly remember the joy of the steps..hehe. Make sure you have your pics ready by then so I have something to do while I am sitting in the RV. Dan & Dave are out sailing today, letting the wind do all the work...just saying...
---
Marianne - 8/16/2015
For: Soha and Beej
Well with all the highes this weekend I'm on pins and needles just waiting to read Rick's next post and share in your experience of the ancient ruins. Hope you're both doing well, and know how much we miss you and are thinking of you. Cheers to the entire group!
---
Sona - 8/16/2015
For: Jim
Dad, Glad the poles are working out well! Looks like an awesome trip!
---
Stephannie - 8/16/2015
For: Jurij
Looking like a thug in that last photo!
---
Steve - 8/16/2015
For: Jurij
Enjoy the rest of your hike and cool temperatures. Heat, humidity and work await you here. Bring back lots of pictures and some coolness.
---
Marie - 8/16/2015
For: Beej and Soha
What a glorious day! Congratulations to you both....great day for Paras & Sangi to lose their independence (India's Independence Day) Good luck tomorrow while you complete the Inca Trail
---
Vini KAKI :) - 8/16/2015
For: Soha , Beej and group
You all made it. Great. Rest as you all deserve and enjoy. Tomorrow you all will be finishing I nca trail. All good here
---
Gita - 8/16/2015
For: Uncle Torey & TJ
Sounds like an amazing adventure with even more amazing views!! We miss you both so much but are so excited for you, & for everyone, as you climb to the top. We are so proud & love you very much. Stay safe & don't stop believing. Hugs & kisses!!!!
---
Moo & Blake - 8/15/2015
For: Soha and Beej
Hi Beej and Soha foiba: This is Meera born 15th August 6lbs13 oz. and 21inches tall Hope you get some rest tonight like me and my mom/dad. Have wonderful next week. Can't wait to show you my big eyes and yawn when you cuddle me. Today I got gifts and hugs from Da and Motima, great grand ma, hugs from dada and dadi ,nana and nani and Sanjay mama. And I didn't cry. Only cried just a bit when I got Hungary .
---
Meera Paras Shah - 8/15/2015
For: Curt, Jim, Torey and TJ
Wow! So proud of you guys and amazed at your accomplishments. Toasted you tonight while enjoying some Bocce's. Can't wait to hear about the trip when you get back. Have a blast! Just, Jan
---
Jan - 8/15/2015
For: Soha & Beej
I'm one proud sister today, what a day to remember! What a fitting way to celebrate the cycle of life- ancient cultures and new life. Congratulations to all of you!
---
Ruchi - 8/15/2015
For: Harry and all
Sounds like a long day! Great job all! Sleep well! Enjoy your last day on the trail tomorrow! The sunset sounds beautiful! Lots of memories!
---
Shannon - 8/15/2015
No more comments are allowed at this time.