Viewing Post for: Ethiopia Explorer 2015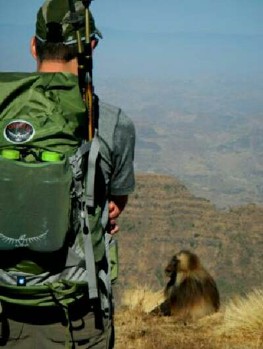 Date: Thursday, February 26
Location: Gich Camp, 11,930 feet. 14 km today
Started sunny, ended pleasantly cool.

Yes! Saw the Geedale Monkey's or baboons today. Paul is in the picture getting pictures of the big male. We saw more screaming over the hill later in the day.

We followed the rim, more huge, huge drop offs. One of the highlights of the day was a 1500 foot waterfall in this pocket like amphitheater. The water disappeared in a black depth.

After we left the falls and started up hill, we were joined by maybe 10 locals with horses waiting for us to fall over and need a ride. At the top a lone musician was playing a one string violin like instrument.

Then down we went to an oasis like waterfall area. Complete with a few goats who climbed into our laps to get some lunch.

Up after lunch to Gich Village. A village of round stone and giant thatched roofs. Here we did a little shopping of grass baskets with the lovely local ladies.

Pulled into camp at 4:30. Tired. A few are a little sick, altitude, maybe some local e-coli. Adding a bit to the challenge. Hopefully all tomorrow will be firing on all pistons.
---
Messages for this post
For: David and Martha
I want to see pictures of the goats in laps too!!!! How cute!
---
Beck - 3/4/2015
For: David & Martha
I want to see pictures of a goat in your lap!! Mom, remember the little lamb/goat you held in Ireland?
---
Katie - 2/27/2015
For: Karla
Hope you're not one of the people feeling ill. Everything is going well here. Take plenty of pictures.
---
Brad - 2/27/2015
For: Marcia
Hope you're taking pix and not suffering from the "ecoli" or alitude. All ok here. Just came back from first "advanced" class with Gretta girl. Not sure I can keep up the Thursday eve after work thing, though. All good with the trip there and back to Long Island for my follow-up with the surgeon. I'm doing well but Three More Weeks of soft food diet. Gato and Gretta off the wall in the house, chasing up and down the stairs. Love you, Me
---
Kath - 2/26/2015
For: Chris & All
Sounds fantastic! So glad you are having a great trip. Hope everyone is better soon!
---
deb - 2/26/2015
For: Paul
We can't wait to see pictures of the waterfall! That sounds amazing. Hopefully you are feeling ok - if not I guess you'll walk it off tomorrow! :)
---
James and Ryan - 2/26/2015
For: Chris
Courtney called me when she got home from school today so excited "Aunt T, guess what we learned about today in Social Studies"? Ethiopia! She told her entire class she knew someone who was there and can't wait to hear about your adventure
---
Terri - 2/26/2015
For: Karla
I am afraid I would be jumping off that hill side. Those are BIG monkeys. Yikes. U trip sounds awesome.
---
Dawn - 2/26/2015
No more comments are allowed at this time.