Viewing Post for: Ethiopia Explorer 2015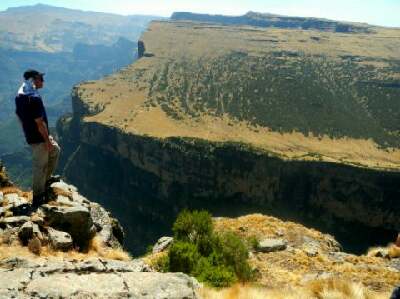 Date: Friday, February 27
Location: Emet Gogo, 13,000
Left from Gich Camp. 5 hour day hike.

Fabulous day hike. We hiked high in the grass, giant lobelia area to the last point on the ridge here. We climbed along the rocky point until it dropped off 3,000 on 3 sides. Spires of volcanic rock rising in places around us. The occasional scream of a baboon in the distance. A slight quiet breeze stirring the heat on your skin from the sunlight. A sense of separateness from the modern world and union to the age old world pervaded.

As I type this there is beating of drums and random hoots and hollers behind me. The kids coming home from shepherding goats and sheep have gathered near the watering place. Next a game of stick ball breaks out in the barefoot kids. The goats graze waiting. Ages 6-14 probably.

A few still with some stomach issues going around. Hoping for tomorrow to be the day we are all firing on all pistons.

A picnic lunch was brought up the hill for us to enjoy at a spectacular viewpoint. Dinner last night was barbeque chicken, a couple types of vegetables, two types of rice and injera and churro sauce. Dessert a crisp fresh apple. The snap of a sling is heard behind me as I finish this. The kids playing and practicing on the way home...
---
Messages for this post
For: Chris
Don't forget to bring home the Baboon! I prefer, and you can pick up a nice piece of fabric for the diaper so it always feels connected it it's roots! Sounds like you all are living the dream. Terri
---
Terri - 2/27/2015
For: Chris
The landscape sounds stunning. Can't wait to see your pictures. Ask Rick to record the baboons screaming for us! :) Enjoy & Trek On!
---
deb - 2/27/2015
For: David & Martha
I love that dessert was an apple! Hope you're having fun!!
---
Katie - 2/27/2015
No more comments are allowed at this time.