Viewing Post for: Kilimanjaro Climb 2015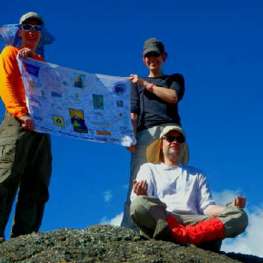 Date: Thursdsay, February 12
Location: Moira Camp,13,600.
Here is an audio post from the gang. Download or listen:
---
Messages for this post
For: Carlos
Just viewed some of the posts and sounds like your having a great time. Hang in there and you will feel euphoric when you reach the top! Hope you have enough Advil PM! But I always enjoyed getting up in the night to pee to see all the stars! Stop using that pee bottle! Poli, Poli!! Good Luck to all, Enjoy. Peter.
---
Peter Martin - 2/13/2015
For: Tim and Carlos
Your satellite phone location shows you in the middle of Mali! Did you go on a side trip?
---
Theresa - 2/13/2015
For: Susie zafuto
I really enjoy reading the updates, it makes me feel less worried and so happy for the progress you are all making. Maggie and Rob went out and I got to snuggle the baby, she is so adorable. Everyone leaves for Florida today. It,s so cold outside so I think the kids are thrilled to go. Still missing you, but oh so proud of you. Love ya xxxooo!
---
Mom xxxooo - 2/13/2015
For: Susan Holmes
You are making progress!!!Candy and Frank hope you are having a great time. They are interested in everything you see and do Tea in your tents sounds relaxing. Have a good day tomorrow. Love, Marilyn
---
Marilyn - 2/12/2015
For: Kris and Ben Thompson
GOOD LUCK & GOD SPEED! You guys are awesome!!!
---
Chuck Olin - 2/12/2015
No more comments are allowed at this time.