Viewing Post for: Kilimanjaro Climb 2015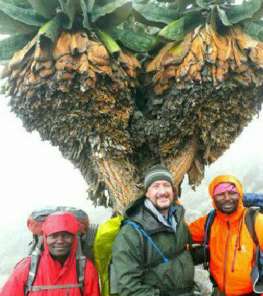 Date: Friday, February 13
Location: Barranco Camp. 13,000 feet.
25 degrees last night. Sunny then clouds. Up to 50 midday.

Major transitions are occurring in the group. Susan showed up at breakfast without eye make up or any other makeup. She took the fan, book and other items out her daypack. She still managed though to pull out 2 different finger nail brushes.

We are in the breakfast tent as I write this. Tim is using Susan's finger nail scissors to trim his beard. Tim's hair now stands straight up adding 4 more inches to is height.

Sue is cleaning up the dining tent complaining about the lack of table awareness by the other hikers..

End of the day report: We all made it to Lava Tower, 15,000 feet! And everyone is doing well. Some slight headaches, a little tiredness.... but most are resting comfortably at the moment in a light rain, in their tents.

We passed through the Dr Suess trees, remnants of another age, exotic plants with mist floating through to the volcanic haphazard boulders and steep canyons around us.

The group wants to mention the weather, when we get to camp we drink margarita's and rub sun lotion on as we bath in our bathing suits. NOT! Each day is similar. Starts cold. Sun comes to warm us. Clouds come and then hail followed by light rain showers. By dark the clouds clear and surprise us with the mountain glaciers surprisingly close now.

Today the other groups rejoin us and hundreds of porters and trekkers stream by. Porters with 60 lbs on their heads, the trekkers with varying states of joy and pain.
---
Messages for this post
For: Tim Mohin
Oh Tim - you are going to owe Susan a new pair of scissors and a drink after this is done! You've had haircuts in far flung places (favorite - near Sacre Cour where the barber held his pinky out for the entire hair cut) but trimming your beard on the way up Kili takes the cake!
---
Catie - 2/14/2015
For: Susan Holmes
Happy Valentine's Day on Mount K! It's a frigid one here, a good weekend to stay in. Love to read details of your progress. Keep going, girl. Have a great day. Love, Marilyn
---
Marilyn - 2/14/2015
For: kris and ben
Hope you guys are feeling well and enjoying those margueritas!!
---
di and bill - 2/13/2015
For: Jeff Bayne
Good to hear you and fellow hikers are doing well. Tomorrow is Valentine's Day. We'll make sure Charlie gets lots of love from Grandma ;-)
---
Todd and Mio - 2/13/2015
For: Dad and Carlos
What I wouldn't give to see that 4 inch hairdo, dad! Hope you're having an AWESOME time and not getting too many headaches.
---
Jake - 2/13/2015
For: To All
Enjoy the wall. Don't forget to look back and down. In our lifetime, the glacier may well disappear. So make sure you take in the view and keep it in your mind and heart. Give Rick a trip he will never forget!
---
Lisa Moretto - 2/13/2015
For: Susie!!!
I hope you are having the time of your life!!! happy belated - what a way to spend it! Ken shared this link with us - soooo cool! They didn't have it when my mom climbed....you guys are the bomb ;)
---
Kristin - 2/13/2015
For: Susie Zafuto
Susie! So happy to hear you are cleaning the dining tent, that means you are all good! :) You got this girl, never a doubt in my mind!! I am in awe of your strengh and determination! Remember to BREATHE and that anything is possible my friend! Can't wait for the next update, stay warm! Love you!
---
Lisa - 2/13/2015
For: Jeff
Keep climbing! Good luck to the summit! Don't forget to take a picture.
---
Celine - 2/13/2015
For: Susan Holmes
Hello Susan, Sorry I missed your call but Tim is doing much better, he came home with me on Monday and slept well but on Tuesday morning he experienced a panic attack , I've never seen him in that condition it was really bad. Another trip to St. Joe's and they keep him to observe, his EKG was good. Wed. He had a stress test and all is good. And he's home now they doubled up on the Valium so now he's on 3 10s a day. Hope your doing great Take care, love ya Joe
---
Joe - 2/13/2015
For: Susie Zafuto
rsadfrew3qqwerty6vbcdfriprdsaq1dddzfyyyyyuwxccfdghytrewuirvcnmjggyu7r5edxcvxcdffredsawq2ll. lkjiuytreeeeeeeeeeeqaweeeeeeeeeeeeeeeeeeppppppppppppppppppppppppppppppppppiiiiiiiiiiiiiiiiiiiiiiiiiiiiiiiiiiiii66666666666666666333333333333333eeeeeeeeeeeeeeeee This message says: Hi Aunt Susie! You rock! Love Augustine and Sebastian!! NO school today!! Pretty cold this AM, but now sun is shining. Go figure! Love Michele
---
The Amoia Gang - 2/13/2015
For: Susie Zafuto
Hi Aunt Susie are you having fun or are you scared ? Love Mickey
---
Michelina - 2/13/2015
For: Sue Z
I know you're having fun, and you're feeling good...what's next Disneyland LOL...enjoy every moment LOVE YOU XOXOXO
---
Dad - 2/13/2015
For: Susie Zafuto
HI!! So proud of you. You are amazing. This is the time of your life..enjoy it and take it all in. Love you xoxo
---
Pam - 2/13/2015
For: Susie
Susie!!!! You are doing so well!! I'm so proud of you! You can accomplish anything in life and you are stronger than you think!! Go get that Summit girl!!! Love you!! I can't wait to see your face!! Smooches!!!! Xoxoxoxo
---
Kendra - 2/13/2015
For: Sue Z
Glad you all made it to the Barranco valley...this was may fav camp site. Tomorrow morning will be fun as you put the poles away and climb the big wall. Think of me when you hug that big rock that sticks out. When you make it to the top of the wall you will feel an amazing sense of accomplishment as you look down at the campsite. Good luck and keep on drinking!!!
---
JJS - 2/13/2015
No more comments are allowed at this time.