Viewing Post for: Patagonia & Wine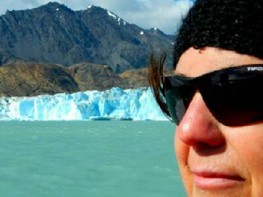 Date: Wednesday, January 14
Location: Torre Del Paine National Park, Chili!
Up in the refugio for breakfast. So lovely watching the mountains and the light on them but we did manage to get out the door for a few hours of hiking in the morning. The clouds played hide and seek with us as we walked below the horns. It really does feel like "El Fin Del Mundo", end of the world here. It takes several hours to drive here from the nearest town. Gas stations are close to 200 miles apart. And not much in between.

We went searching for windblown glaciers upon Lake Grey. Admired the mystery how the blue light up from the inside when the sun hit them. Admired is too small a word for this place. Awe is better. We feel so small, the play of low angle austral light, the clouds, the flash of snow in the air...and this is summer.

As we drive we often pull over for the Guanaco, the llama like creatures, to capture a picture against the towering peaks... wonderment, out one window, all around us as we walk, buffeted by the constant winds...

And dinner, Consuelo. A typical local dinner cooked by people who consider themselves Patagonicos first and Chilean second...

And back to the estancia for the night...
---
Messages for this post
For: Rick
Hey the snow is great here, Come home and we will ski. Really cold last night, -20 degrees f on the car on the drive to school. Have fun. love Randy Deb Cam and Kiana
---
tu gamelo - 1/14/2015
No more comments are allowed at this time.