Viewing Post for: Patagonia & Wine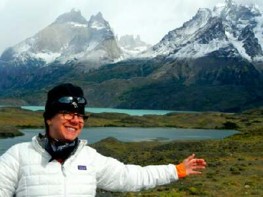 Date: Tuesday, January 12
Location: Torre Del Paine National Park, Chili!
Yesterdays constant chilling snow and wind gave way to today's lifting of clouds. Impressive as as they lifted they revealed more and more of the hidden "horns" and towers of Paine. The wind still made it hard to stand. I don't know how the boat was able to take us to our refugio, remote lodge in the aqua blue waters against over 40 mph gusts. Gusts so strong it whipped up the water into spray in the air.

A 2 hour one way hike lead us up into the wind high above Lake Grey for an amazing view of a gigantic glacier pouring off the ice cap in the distance. Now we sit in warmth watching the light play on the clouds and glaciers high above us. Darkness does not come to about 11 pm here as we far south.

Last night we spent the night in a lovely ranch about 2 hour drive from the park. Many courses of dinner lead us to bed at a late hour. It was Jean's birthday and she was toasted as we wore party hats and drank Chilean wine.
---
Messages for this post
Currently there aren't any messages for this post.
No more comments are allowed at this time.