Viewing Post for: Bhutan Sept. 26, 2010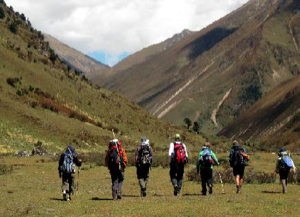 Date: October 5 - Post 2
Location: YAKSA VALLEY
We climbed to over 16,000 feet to an amazing beautiful pass. 23,000 foot mountains, wild sheep, yaks, such beauty. All did well by using the snail pace techique. We are camped at 13,800 feet, sleeping in an yak farmers house. Barb and Greg have the temple room. Yak cheese is hanging all over the kitchen. Blocks of yak cheese stored in the temple.
---
Messages for this post
For: Cath / CJ / David
Sounds like things are going great! Hopefully you brought the manual to calibrate the altimeter. What's a couple of hundred meters between friends? So are y'all eating yak cheese or yak for dinner? Sounds a bit chilly unless you meant 20 Celsius (kidding). Team Update: MDUMC Wildcats (SJ's team) won their 1st & 2nd soccer games, though SJ is more like Ferdinand the Bull watching butterflies than Mia Hamm at this point.
---
Uncle David - 10/6/2010
For: Cath, CJ, David
Test
---
Uncle David - 10/6/2010
For: Barbara
It was nice to see you in a photo! The mountains look beautiful. We hope you return with many inspirations for new work from your trip! All is well here - Fall has definitely arrived! Crisp weather, changing colors and plenty of pumpkins around. We'll see you soon. Enjoy the remaining days of your trip.
---
the BHS crew - 10/6/2010
For: Pualy
I really enjoy reading these updates on your trip. Between the temps and the altitude, I am in just awe of your ability to manuever your way up this mountain. Sound like you have a nice group to share your love of adventure under the cruelest elements :)haha. Good luck and enjoy the rest of your trip. Miss you.
---
Jolene - 10/6/2010
For: Steve & Melissa
Having a wonderful time at work, wish you were here!!! No just joking, we're all reading the updates each day and discussing your trip. It even surpasses our "Survivor" Thursday morning talks. Be safe. Laundry - we have to have a talk about that!!! Are you slacking??
---
The WK Gang - 10/6/2010
For: Barbara and Greg
Nice to see your picture with that beautiful snow-covered mountain and bright blue sky as your back drop. I am looking forward to seeing stunning pictures to post in the office, which by the way Greg you will be glad to know is still standing! It as been as rainy here as it has been crisp and sunny there in Bhutan. Continued joy and peace as you finish your trek.
---
Mollie - 10/6/2010
For: The Krapfs
hi! it sounds like you two are having a lot of fun! things are going well here. tanya and timo might come spend a night at my house this weekend, since we have the extra day to work with. lots of love from home!
---
Gaylen - 10/6/2010
For: Chris
hey :) i am glad to hear you're doing well... i woke up this morning to 4 new posts on this site from your group, so it was a good way to start the day. the hiking sounds amazing and gorgeous, i hope you're soaking it all in (and TAKING PICTURES!!). we lost to webster schroeder last night in 4- there goes undefeated. i am really upset about the loss- we all are- but we will just have to beat them in the sectional finals :) homecoming week is fun! can't wait to see you!!
---
Gaylen - 10/6/2010
For: David and CJ
Extremely happy that you guys are heading away from the border, were we seeing it right that the opposite side of the big valley you were in was China? Odd, my cell phone stays charged two days without you guys around... take care :)
---
Dad - 10/6/2010
For: Cath, Chris, and David
The pictures are great and the stories must be wonderful. I wonder how many of you will write a book for the next group ...sharing your thoughts, etc. Lordie, for some you that is half way to heaven at 15,000 ft. Cath...how are you doing in the altitude., Where was David when the pic was taken? I love your bright colors and glad you are wearing your sun glasses. Keep up on your writings and maybe the boys wwill get a good grdade in your journals...Maybe that would count as an assignmen
---
Mom - 10/6/2010
For: Barbara
Looking at the photograph on today's blog with you, Greg and two fellow hikers.I notice three differences between you and the rest:First, you're the shortest. Why does that not surprise me?Second, you're wearing a bandana.Smart woman, but your man needs it more than you do.Third, you're missing something the others wear. What is it?Solution in tomorrow's blog.
---
Barbara - 10/5/2010
For: Barbara and Greg
Let's try again. Our previously posted messages never were actually posted?!? Had match against Mendon today, wasn't pretty but won with big margins in three. All are really busy, trying to keep up with school, vball, jobs, dinner, and the usual. Life in Rochester seems boring compared to what we read about your trip. Have fun!
---
Schirmers - 10/5/2010
For: To,George
WOW I think I would have died and gone to heaven to be where you are!!! Between mountains, Yaks and blue sheep, not to mention alpine flowers, who could ask for more!! All's well in Vermont. Enjoy for us! Love, Bette
---
From,Bette - 10/5/2010
For: Rick
Had a nice visit with Marcia Sunday night. Wish you could have been here with us. Sounds like you all are having an exciting trip. Cheese sandwiches tonight were not with Yak cheese! (Thank goodness). Your dad is doing ok and wishes he was there but in a way glad he isn't making the high altitude climbs, however, he is looking forward to the trip next year.
---
Janet - 10/5/2010
For: Dr. Greg
What a wonderful experience you are having. I'm looking forward to hearing your stories and seeing more pictures. I'm enjoying reading the posts of your journey.
---
Trish D. - 10/5/2010
For: George
Want to go to St. Louis 10/22 - 10/24 with me? I'm thinking of going for my Law School 35th reunion and to see friends and bike, of course. Need to know to decide about reservations, buying air tickets, etc.
---
Joyce - 10/5/2010
For: Sandy & Group
Good job on the high altitude racing... you know you're really doing something when you head up above 14,000!! We're really proud of you!
---
Mary - 10/5/2010
For: Gina
Follow up from message above... Spam filter on website is giving Mom fits. She is trying to write to you but can't always get it posted. Beautiful weather here... political situation not so much.
---
Mary - 10/5/2010
For: Gina & Sandy
Wow... what a day!! So... did it actually snow on you, or just threaten? One team I know about is the San Francisco Giants, and they won a game that made everyone happy. I also think the Broncos won a game... not sure which game they were playing though... football, baseball... soccer? Is there a fire in the house where you are staying? Thanks so much for posting! We check several times a day (during your day) for updates... Mom is having trouble with the spam filter... it's giving her fi
---
Mary & Clee - 10/5/2010
No more comments are allowed at this time.