Viewing Post for: Bhutan Sept. 26, 2010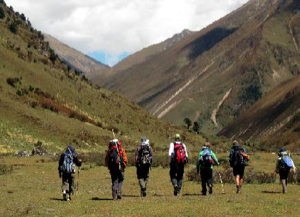 Date: October 5 - Post 1
Location: Plan D
Today we embarked on our fourth major itinerary change of the trip. We started the morning with sub 20 temperatures and literally ran to stand in the sunshine as it moved across the valley. After leaving our camp we crossed the river we had been following since we left Paro, and started the first of our climbs. Throughout the day we were led slowly up the "hills" at a manageable rate by Rick as we progressed towards the pass we had to cross. Along the way we passed several yack herder huts, guarded by some rather unfriendly mastifs. Many of the herders higher up the valley had already retreated down the mountain in anticipation of the coming snow. Needless to say this did little to reassure us as the cloud cover increased throughout the morning. Farther up the valley we passed two crystal clear lakes fed by a local glacier. Several derogatory comments we made about David and CJ needing to get into shape for swim season, however they refused to get into the freezing water. Smart. Right before the final ascent to the pass [16300 ft] we stopped for a quick lunch. After lunch we continued toward the pass in a group [again led by Rick]. About halfway up David, CJ, and Sandy broke off and sped up the mountain as they wanted to surpass the 5000m barrier. They climbed an additional 300+ meters higher than the pass in an attempt to do so, only to learn that David's barometer was off by roughly 200m. Their final altitude record was was 5120m [adjusted for accuracy]. Everyone else made it up the pass where hot tea and strong winds awaited. After clearing the pass we began our sharp [like fall off the cliff sharp] descent of over 1200m or 4000ft into the village of lead horseman. We will remain here for two nights and then continue out of the valley towards Paro.

The updated itinerary has us ending our trip in Paro, yet we will still visit Thimpu for a while. The question of the day is why are blue sheep called blue sheep?? Any insight would be greatly appreciated. [Several members of the trip are also curious about team updates and standings. Please avoid any political references. The group would also like to encourage reader participation. Your responses, updates and messages telling us how hard it is not to constantly text us, are the highlight of the day.
---
Messages for this post
For: Paul
OK I give! I just sent a message looks like it did not take and I have to retype. As I said I had to resend the last message 4 times because I apparently did not get the code right at the bottom. I do love getting these updates and seeing the pictures, but I do worry when you go on some of these trips so please I don't want to hear about anyone falling into the river or off the cliff. I know you are all enjoying yourselves. This is my 4th try again so if you don't get this message I have given u
---
Mom - 10/8/2010
For: Chris M & Group
Sub 20 temps in the morning?...maybe the sheep are blue because they are cold! hahaha
---
Deb - 10/6/2010
For: david
it cutt off: i hope they are entertaining. have funn! be safe! take a pic of a blue sheep! and a yak! byee.
---
maggie - 10/5/2010
For: david
heyyy! so yeah there were no posts from you guys for a few days.... life here is lovely. not as cool as it is there tho! by farrrrr. today i ran, swam mercy, and swam sharks. jason coached us so it was a blast (21 100s). Timo and i discussed you all and your lovely trip. it was super funn. camee misses you too. one more day of school for me until retreat and then notre dame :) and then you come home! well ill write you tomorrow too! and hi to everyone else there! sorry for my long posts everyday
---
maggie - 10/5/2010
For: Catherine
Glad to hear all is well. There were no new messages from your group for several days and we got a little nervous... The weather here has been cold and rainy. Lacey and the cat have gotten into the habit of curling up next to each other in front of the woodstove! Continue to stay safe and healthy!
---
Kate - 10/5/2010
For: Chris
Continued: couple of days. I know I don't have to tell you to keep having fun but do! And just a reminder, don't forget your dances. Especially the Viennese Waltz ;)
---
Andrea - 10/5/2010
For: All o? (maximum 255 chars)
Baseball Standings: NL: Reds vs Phillies; Braves vs Giants; . AL Yankes (Wilds Card) vs Twins; Rangers vs Rays Dvs Winners. Nets fired GM & Mgr. Football: Jets,Giants, NE, Houston, Baltimore, Pittsburgh, Kansas City, Washington, Giants, Phil, Atlanta, NO, Chicago, Green Bay, Arizona, St. L., Seattle - all tied. Alabama, OSU, Oregon, Boise State Type your message here...
---
Pete and Sallie - 10/5/2010
For: Group/George
Messages are tough to compose, since your trip is so awesome and our lives back home so ordinary. I did see the President (of the US) and Speaker Pelosi Friday though. Google says blue sheep get their name from a blueish sheen in their coat. I take it you're not seeing it. George, you there? Haven't seen you/heard of you since an early picture.
---
Joyce - 10/5/2010
For: Chris
Hey! It sounds like you are having the most awesome time I'm so very jealous! I can only imagine all of the beautiful views that you can see from the top of the world. Strange that you didn't try to take a dip in the "crystal clear lakes" knowing your deep love for water :p Just so you know, I believe that the last four posts for this blog have been delayed because they all just showed up today. It Could be the reason why people haven't been sending you messages for the past couple of
---
Andrea - 10/5/2010
No more comments are allowed at this time.