Viewing Post for: Bhutan Sept. 26, 2010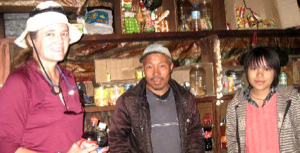 Date: October 2
Location: JHOMOLHARI, BHUTAN
Today's hike was 22 km of up down up down terrain eventually ending at an elevation of 11,860 ft. The trail was very rocky and muddy at times. Robin, our vivacious and charismatic trekking guide, won our fashion prize of the day with a fur Russian hat. Honorable mention goes to Gina with her stylin' blue legionnaires hat. The trails were very reminiscent of the Adirondack high peaks except they are covered with horse poop and 10,000 feet up. Trekkers report very slippery rocks at major water crossings with two partially submerged hikers. This morning we learned about the ancient Bhutanese tradition of night hunting, now only practiced in the east due to the increasing number of guns in the west. Night hunting is an extreme sport practiced by teenage boys in which they enter the family bedroom through a window at night and visit a female friend. If father awakes, they're married. Gina reports that the first part of the day walking through a temperate rain forest with moss hanging from the trees and ferns all around. As we approached timberline we saw larches which are a deciduous conifer and maple trees that are changing for fall. We also found acorns surrounded by thistles. In camp we are continuously faced with the challenge of negotiating the minefield left behind by the 27 horses on our trek. We are graced with the talents of Robin and Rick and their John Denver renditions.
---
Messages for this post
For: Barbara and Greg
We are thinking of you & love reading the updates. Having 2 daughters, we hope you leave the night hunting there!! Just think how wonderful a hot shower and glass of wine will be! Beautiful autumn here. Take good care of your knee! Be Inspired!! Matt & Char
---
Flanigans - 10/3/2010
For: david
so it cut off "funn and be safe :)"
---
maggie - 10/2/2010
For: david
heyy! it sounds and looks so pretty there from all the posts and now i have a fictional view of bhutan in my head lol. it sounds like tons of fun! i wish i could be more outdoorsiee and experience that but that will never happen. night hunting sounds like a sweet game... too bad my window is impossible to climb into... that keeps me feeling safe. haha today was senior meet. we got crushed by victor. oh well. notre dame is playin now and doing horrible. lovely. well i miss you tons! keep having f
---
maggie - 10/2/2010
For: Group
Gina knows the words and music to every John Denver song ever written. She can be the JD consultant. Our CO governor candidate has a great new ad featuring him on a horse... we'll watch it and think of you!
---
Gina's Sister - 10/2/2010
For: Gina & Friends
Wow... what a report! Thank you so much. Glad your hat was a hit, Gina... will it double as a flotation device if necessary? Are the 27 horses carrying all your steak dinners, wine bottles and portable hot tub? We're thinking of you all.
---
Mary & Clee - 10/2/2010
No more comments are allowed at this time.