Viewing Post for: Bhutan Sept. 26, 2010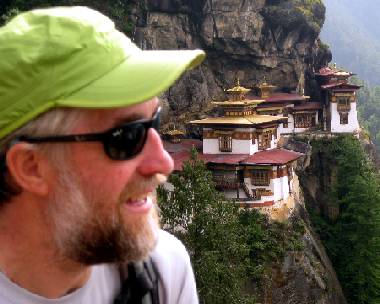 Date: October 1
Location: GUNIDSAWA, BHUTAN
We started the day with a climb to the famous Tiger Nest above the city of Paro with a 2000 ft elevation gain to a spectacular view. The monastery is built into the side of a cliff and is an amazing example of architecture and nature. From there we had spectacular views.

Environmental preservation is one of Bhutan's key principles for measuring the Gross National Happiness. The environment is pristine - clear air, clear glacial water, city noise free. There is also symbolism everywhere. The majority of the symbols are to bring good luck and fertility, coming often in the form of penises. The penises were painted onto houses, carved into temples, made into water spouts, and even put on the top of carved hiking sticks. The majority came with testicles some with hair and some without. We attempted to count them and gave up at around 500.

On a health note we have 4 colds and 2 cases of dehydration. Also, Paul fell into the river about an hour before this post at camp which combines the thrill of victory and the agony of defeat. For those of you excited about the prospect of us having wifi, apparently only hard-wired internet is available at larger schools. The real meaning of wifi was lost in translation and no one has heard of "wireless" internet. Interestingly, Bhutan and India have a tech deal, and India is providing all schools with a computer and internet. On a similar note, the king decreed in 2008 that every house have phone and electricity. Even though we have been walking for over 5hrs since the last road (paved) our guide still uses his phone and power lines still pass overhead.
---
Messages for this post
For: Sandy
I hope some of that hiking we did this summer has helped! I did a 10 miler today but it appears to be very different from the hiking you are doing. I imagine great views and little rain. I am enjoying the travel-log.
---
Barry - 10/3/2010
For: Paul Neumann
Hey Paul, No foul to go in the water there. They say it's all clean and pure! It's a lot better than landing in all that horse poop I've been reading about! Stay safe and enjoy!
---
Uncle Hank - 10/3/2010
For: Paul
Paul I was very concerned about you falling into the river, but hope you are OK. Sounds like some of your companions could use Juice Plus hope everyone gets better and please be careful!
---
Mom - 10/2/2010
For: Chris
hi, i hope you're doing well and having fun!! i enjoyed your audio post about the people who looked like they were bleeding. good idea for halloween :) we lost to sutherland in a tournament today... that stung. ah well. we are 10-0, beat canandaigua again last night! be safe, enjoy. i miss you!!
---
Gaylen - 10/2/2010
For: Catherine, David & CJ:
Have been playing tennis even though it is about 104 during the day. Fresh fruit is in all stores and is fantastic. Tom is going to see EP orthopedic on Mon!! Why? my bl tests have all been good.wbc went down 10,000. OK vs TX still playing..OK is ahead. TX making a lot of mistakes. The pics of Tiger's Nest were lovely. How do the monks get supplies? Can't wait to hear your stories. Wish you had taken a recorder. I miss your calls. Mom
---
Mom - 10/2/2010
For: Chris & Group
Thank you for these interesting & informative posts. Chris, hope you are well and that those who are ill get well quickly. PS to Paul, watch your step man!
---
Deb - 10/2/2010
For: Steve and Lissa
Awesome picture, Steve! Hope you are having fun -- the trip looks amazing! I am inspired! Love, Amy
---
Amy - 10/2/2010
For: Steve and Lissa
Awesome photo of Steve in front of Tiger Nest. Hoping you are neither sick nor dehydrated. I'm currently near Death Valley trying to stay hydrated myself.
---
R.O.B. - 10/2/2010
For: Catherine, CJ, David
Sounds like an amazing trip so far! Lacey is enjoying her staycation. She went to the Homecoming parade today and cheered for both classes. She's wondering if you might extend your trip for a few more weeks.....
---
Kate - 10/2/2010
For: Gina & Sandy
Do you want updates on State or National politics, or are you trying to raise your Personal Happiness Quotients by repressing thoughts of those topics?
---
Mary & Clee - 10/1/2010
For: Gina
If you drink too much of that brewski, you might get dryski... be careful with that!
---
Clee - 10/1/2010
For: Gina
Thanks for your attention to Gross National Happiness. Is there any implication that this metric is related to numbers or sizes of penises? Also interested in the issues around noise/ silence.6 Amazing that you are getting wireless as you walk... the world is truly getting smaller!
---
Mary - 10/1/2010
For: Gina
The Tiger's Nest is famous from travel photos luring one to Bhutan. What a special thing to be able to do.
---
Mom - 10/1/2010
For: david
so mcq homecoming was super fun! senior meet tomorrow :) i miss youu!!! but one week down, 1 and a halfish to go. oh and the other day, i met teresa. she is so sweet. i told greg we must double sometime. but yeah i gots to go to sleep. be safe and stay healthy! i miss you tons!
---
maggie - 10/1/2010
No more comments are allowed at this time.