Viewing Post for: Bhutan Sept. 26, 2010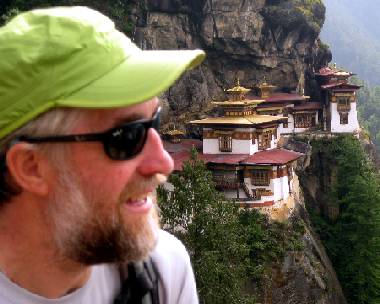 Date: October 1
Location: Audio Post
Here is an audio post from the gang. Download or listen:
---
Messages for this post
For: Gina
Today that song, "I hope you dance" came on the radio while I was working in the kitchen and it ALMOST brought me to tears thinking about you. Things are good here. Sunny and mild today, which is refreshing. I got to see the Hudson, which was cool. And the other day some volunteers picked apples from the orchard on campus and made apple butter, which I am enjoying with toast right now. You know what is really throwing me off here? I feel very claustrophobic because the trees are so tal
---
Leslie - 10/2/2010
For: All trekkers
Good evening Greg, Barbara, Catherine, CJ, etal, CJ your audio blog was awesome. The visual was as gruesome as your description. It will be interesting to see what other factoids you share. Thanks to all of you for letting me vacation in Bhuton vicariously! Enjoy!
---
Mollie - 10/1/2010
For: Gina
That is an amazing story and picture, Gina... we listened to it here on the deck watching an amazing sunset (and we had figured out the problem before CJ gave the conclusion)!! Hope your walking sticks stayed up for the journey and serve you well on the trek! Love you!
---
Mary and Clee - 10/1/2010
For: Sandy
The Tiger monastery looks amazing. . .I hope the hike was as beautiful as the picture shows. Glad the weather is nice (I see short sleeves in that picture!)it poured rain all day here yesterday. Tomorrow the trek begins. . . I am so excited for what lies ahead for all of you and it is so fun to follow your journey on the website.
---
Lisa - 10/1/2010
For: Chris M
Wow, breathtaking...I am sure the Tiger's Nest was even more amazing in person. Enjoy! Love & miss you.
---
Deb - 10/1/2010
For: david
david! hey, so you told me to write you a lot so you would feel special.....yeah, that didn't really happen sorry :) haha but i'm writing now so that's ok. physics is so weird without you there! you're not missing tons, but it's actually starting to make some form of sense now. and you missed an.........interesting spirit day. let's just say that our skit was jersey shore themed, and the senior skit included colin anderson as alex trebek from jeopardy (a parody of an snl parody. go figure.) well
---
layna - 10/1/2010
For: Chris
Yo! Sounds like you are having fun! Warning: figure out what you're going to be for the masquerade ball :)
---
Rachel - 10/1/2010
For: Steve and Melissa
Great picture of you, Steve with beautiful temples (?) in the background. Only thing you've missed here was our 8" in rain yesterday. Enjoy!
---
Penny - 10/1/2010
For: Chris
Lol at first I was gonna say that guy needed some dental work :p Sounds like you guys are having fun. I enjoy looking at all of these posts every day. Thanks for keeping everyone updated!
---
Andrea - 10/1/2010
For: david
sooooo spirit day today was AWESOME! soo much funn... and the seniors won... obvs :) so megan and i got a pic together so you can see out outfits. i got a total of 1 hour and 4 mins of sleep last night but at my meet yesterday i did get a best time. Tomorrow, we swim victor, which will be tough so tonight i am going to the football game with alysia but coming home early to sleep and so i can swim amazingly in the morning. and then notre dame in days for mee!!! well adios for now. i miss you!
---
maggie - 10/1/2010
For: cj
haha lovely story. i can't wait to hear all the other wierd stories you will have to tell me when you get back... like an explanation to the picture you tagged me, gaylen, and tayna in.... haha well now i got to write to david so byee.
---
maggie - 10/1/2010
No more comments are allowed at this time.