Viewing Post for: Bhutan Sept. 26, 2010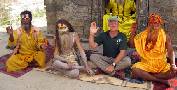 Date: Septenber 29, 2010
Location: Kahtmandu, Nepal
Today we are trying something different. Over breakfast we decided that Ricks blogs weren't meeting expectations and so took matters into our own hands and divided up responsibilities. Our environmental report comes from Gina McAfee from Boulder, Colorado.The environmental quality improved today as we journeyed east away from the high particulate pollution of Khatmandu. The noise level of horns also dropped. We observed many roofs that had grasses and other greenery growing on them. The grasses grew from rainfall landing on the dirt used for grout. Steve and Melissa Shepstone will be writing about our daily activities. Today's catch phrases were "watch your head" (due to the incredibly small doors) and "no shopping" as a handy reminder to prevent shopping. Between the two sites we visited today were lush rice fields and farms that offered a lovely change from the conjested streets of khatmandu. Barbara Krapf is heading up our fashion department. Steve Shepstone was deemed the most fasionable person of the day when he came downstairs sporting a flashy bandana. Catherine Cornell is our reporter on transportation. Khatmandu had a trolley system but could only find one student to repair the trolleys. He graduated and the locals stole the wiring dooming the mass transportation system. We observed traffic on one of the few roads with lines. With lines the locals generally stayed on their side of the road. No lines indicates anything goes.

On other notes, Chris is fighting guilt after continuously refusing to buy anything off of a little tibetan street sales lady. All is still well.
---
Messages for this post
For: All
Steve is used to hearing "watch" your head! Even in my house...like hearing about the trip, and especially like the expanded posts!
---
Penny (Melissa's sister) - 10/1/2010
For: Paul
Glad to hear you made it there safely. This blog is great being able to hear what you are doing and somewhat feeling like we are with you in the experience. I am always in awe of the trips you take and look forward to seeing all the pictures. Have a great time and thanks so much for letting us share with all of you.
---
Mom - 10/1/2010
For: Sandy and Rick too!
Glad to hear you are having such a good time. It brought back fond memories of Kathmandu and the shock I was in when I first drove on walked the streets. . . and people think climbing mountains is dangerous!! I am imagining you are about ready for the transition you will be making today. . . peaceful solidarity and surrounded by vistas that are beyond what you could have ever imagined. Know that I am thinking about you every day and that my heart is with you. . namaste
---
Lisa B - 9/30/2010
For: ChrisW
Hey! missed you at the game last night cheering on the SHS girls. But I am sure Bhutan is more interesting than the inside of a gym :-) Enjoy!
---
Mrs.Schirmer - 9/30/2010
For: Chris Mc
We missed you climbing tonight, Amigo. Scott stopped in for a visit! Climbing was excellent, Carroll's a great teacher, I think Deb's Nemesis can be upgraded to Deb's Nuisance! Climb on! xo
---
Deb - 9/29/2010
For: Gina
Hope our 31st anniversary was better for you than our 30th!! Record highs here... in the 90s!!
---
Clee - 9/29/2010
For: david
heyy! i am sick so i am 100% jealous you are there and i am stuck being sick in crappy rochester. oh well haha. i miss you! oh and so i was reading the blog in business class and my group came over and was like what are you doing? but yeah i have so much to tell you. and dont be hatin but idk if i can write tomorrow cuz afterschool i have a meet far away and then a sleepover at julias for spirit day prep so if i dont im sorry. anyways, keep having funn and ill see you in 2 weeks :)
---
maggie - 9/29/2010
For: The Krapfs
Glad to hear that you made it safely, we know how long of a trip it is! Nepalis have much to teach us with their innate spirituality and humility. Make sure to hang out with some sadhus (looks like you are already doing that), try momos (vegetarian dumplings), and yak tea (once you get to the Himalayas), it is an unforgettable experience! Enjoy every minute of your time there, wish we could still be there to show you around! Stay well, Heidi and Brian Kenty
---
Heidi and Brian Kenty - 9/29/2010
For: all
Hope that steve shepstone was wearing MORE than a flashy bandana..... :-)
---
Deb - 9/29/2010
For: Paul & All
I have been very jealous to read your blog...and, wished very much to be with you. That is until I read 'No shopping'. What is with that? If I travel half way around the world, I need to bring back 'souvenirs'.
---
Cheryl A - 9/29/2010
For: Chris, Paul, and Rick
Hi Guys! This is blog is awesome! I feel like I am right there with you guys! I look forward to following you guys on this trip! Chris, I can't believe you turned down a little tibetan street lady! Rules can be bent! :) I miss you guys!
---
Michelle Garland - 9/29/2010
For: Sandy
Looks like you are having fun and seeing a great deal. Fascinating part of the world! Have a great trip and be safe. Weather back here getting cooler although yeaterday was 78 F. I am heading out for some biking today.
---
Barry - 9/29/2010
For: Paul
The posts and pictures are very interesting. Have a great time on the rest of your trip.
---
Sister Debbie - 9/29/2010
For: CJ/David
Is there another Chris on the trip? Most of us on the blog do not know all participants names... although there was no question in my mind which Chris was looking at knives. Strange weather here, seems like its switching from fall to summer every day. Permit is in and hunting starts Sat morning, Duff seems to know. Sounds like you got a good taste of living in an unusual part of the world... be safe and healthy!
---
Dad - 9/29/2010
For: Gina
Saw you in the picture!! Thanks for the great post, everyone! It is beautiful here in western CO (except for the nasty election season). Jayne and Lee say Hi! Gina. Clee is training his birds...
---
Mary - 9/29/2010
For: rick
Namaste, I am so jealous of you being there and me here...It has been a long time since I have been there. I wish you all a good trip and glad all are safe. Enjoy your trip!!!
---
your brother - 9/29/2010
For: Chris
"No Shopping" meant NO shopping! We follow the rules in our family! Don't beat yourself up over it, 'Migo...I'm sure there will be more opportunities. Great post today from the group. Thank you for sharing.
---
Deb - 9/29/2010
No more comments are allowed at this time.