Viewing Post for: Everest Base Camp 2014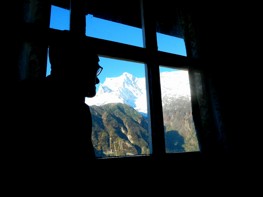 Date: Saturday, October 25, noon
Location: Dengboche again for lunch
Let,s set the scene. We are sitting in front of an ancient monastery. Horn blowing from somewhere inside. We are surrounded by giant white peaks descending into pine and huge rhodaderen forest. Incense in the air. Bright sun but enough cool breeze to need a jacket. A helicopter swoops in over the yaks on the trail with their bells and monks in maroon robes and shaved heads. We are breathing a little hard from the uphill climb. It is lunchtime in the Khumbu.

So Drew, lets answer some of your questions. There is only one Lama and lots of monks of all ages.

Today we descend into the forest to 11,500. All slept well last night with the extra oxygen at this level. We went to visit a high altitude medical clinic before leaving town. 10 miles hiked. We pass people struggling uphill like we were last week.

Thank you for sharing our celebration with us.
---
Messages for this post
For: Rick
Iremember the hike back to Lukla years ago when i stopped to talk to a old man who we found out he was the grandfather of Neme the 1st woman sherpa to climb the mtn.He invited us in for some Rice wine that seemed to slow our hike back.Randy went on a search for dave and I as he thhought we were lost.
---
Daddeo - 10/27/2014
For: Paul
Hello! Sounds like an AMAZING time! I can't wait to see the pics. Garsins are doing well. We went to The Apple Farm today and all 3 kiddos rode a horse! Apple picking, cider donuts, hay rides...the best season of the year! Safe travels for all!
---
Lori - 10/25/2014
For: Carlos (Charlie) and Nick
Enjoyed the blog and audio on the ascent, keep it up for the descent. Once again congratulations to all on a great climb. Charlie, you are tied for second on Duke Fan on the Week. I'm campaigning hard for the votes. See you both soon. Besitos. Namaste!!!
---
Noly and Pop - 10/25/2014
For: Dad/kevin
Glad it's going well!!! Mom and I hiked all over Seattle today!!
---
Cathy - 10/25/2014
For: Garth and Sarah
Thinking of you everyday. Sounds beautiful! Love GRAN and ATan
---
Gran and A Tan - 10/25/2014
No more comments are allowed at this time.