Viewing Post for: Everest Base Camp 2014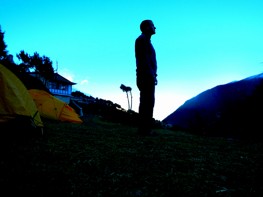 Date: Sunday, October 26
Location: Monjo again, same as first night
We went looking for a woman who John's friend from the Peace Corp 43 years ago stayed with. John had a picture his friend gave him of her and this family. Kami recognized the woman's daughter. We found the daughter as Kami knew where she lived and gave her the picture. Amazing!

So, we had our town day at Namche. Wifi and bakery. Start of being back to civilization. Our young 5 year old friend Laksmee was at our lunch place again.

At Monjo, Peter accidentally left his yeti hat last week. Seti topi, white hat. We asked and they had saved it for us in a plastic bag. Very cool.

We took the opportunity to serve our porters and cooks and sherpas tea in thanks for all the service they have generously given us. Ask your trekker what tato dudh is. Ramseram our cook, made us an incredible cake for our last dinner he cooked for us. We are getting ready to part with our crew over the next day. It is going to be sad.

Nawang needed a filling . The dentist just happened to be flying in from Katmandu to Lukla and then by helicopter to Namche. So he stayed behind to get it fixed. 8 dollars.
---
Messages for this post
For: Kevin/dad
Hey dad. Mom and I made it home! Had a great trip!! Safe travels. Say hi to kelly for us!!!!
---
Cathy - 10/27/2014
For: Kevin
We miss you! Have you had to use any of your antibiotics? How are the yaks? Did they remember you from last time? No exciting news from the pharmacy, but if you open up a pharmacy over there, we're in! Mike Mack wants to know if you have seen the Yetti? Amy Doyle says hi and that she's thinking of you! Can't wait to hear all about your trip!
---
Jen C. Heidi and Melissa - 10/27/2014
For: Garth and Sarah
Hi Garth and Sarah- We've all enjoyed hearing about your adventures. Congratulations on reaching the Base Camp- that is a real accomplishment! First ones in our family to do it! Have a safe descent. Love- Brenda. P.S.- Today is election day in Toronto. I'm sure everyone in the whole world is watching to see if a Ford gets back in again- we certainly hope not. We'd be happy to be described as a low-key, dignified city again!
---
Brenda from Toronto - 10/27/2014
For: David Guaspari
We saw some monks in maroon robes and shaved heads walking home from the "Friends of the Library Book Sale" in Ithaca today. It made us think of you. Hope you are well and enjoying every last minute of your adventure!
---
The McCulloughs - 10/27/2014
For: Kevin
Kevin, I miss your morning pep talk before a day as Clinical!! Also, your lollipop bowl is empty so I'm going to refill it for you with some Halloween candy. :) Enjoy the rest of your trip. Can't wait to hear your stories!
---
Lindsay - 10/27/2014
For: Kevin
So glad to see that you made it to your goal my friend. I cannot wait to hear the stories and see the many photos when you return. I know the pictures will be terrific as you always do such a great job capturing the best moments. Glad to see that the prayer flags were present again this time around. Safe travels homeward.
---
Jen (CAP) - 10/26/2014
For: John P.
That is amazing that you found the daughter of someone in Marianne Graham's photo. I bet she was surprised to see a picture of her parents from 43 years ago! I am so glad you are none the worse for wear after your altitude troubles. Nothing like a little air to breathe! Hope you are finding some meaningful souvenirs for yourself to enjoy memories of this incredible trip.
---
Priscilla - 10/26/2014
For: Carlos (Charlie) and Nick
What wonderful memories you will have. New friends, new experiences,new stories to tell, that is what life is all about. Can't wait to hear all of it. Just a few days until we see you. Continue to be safe on your journey. Besitos and namaste!!!!
---
Noly and Pop - 10/26/2014
No more comments are allowed at this time.