Viewing Post for: Everest Base Camp 2014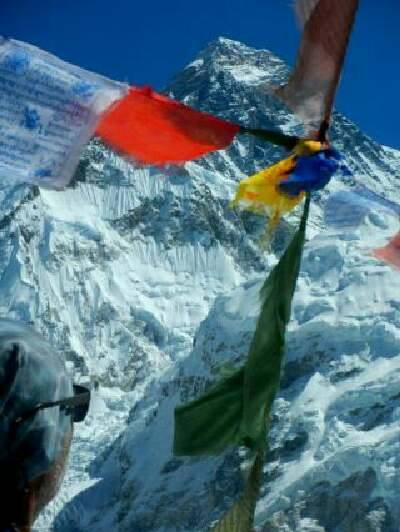 Date: October 24, 9th day of trek
Location: Kala Patar, 18,500
Gorak Shep, then 5 hour hike to Pheriche at 13,500.

Big day! Woke up very cold. Waited for breakfast as at this altitude it takes a long time to cook. The sun came, very welcome and thawed us out. Then 2 hours of very slow uphill. So amazing! You had a great view of Everest and all the surrounding area. Nawang, Kami, Nima, Rick, sara, Garth, Peter, Paul, David, Carlos, and Kevin made the top. John went part way and was a bit trashed still from yesterday so turned around. Nick decided EBC was his high point and went ahead with Lapka to get us a campsite. All are recovering and doing well.

We spent a glorious hour on top with people from Ukraine, Israel, Australia and many other places in the world. We took lots of pics and be sure to listen to the audio blog.

Now after hot noodle soup we need to hike 5 hours to try to beat the sun to camp.
---
Messages for this post
For: John
Soooo Proud of you. Can only imagine what wonderful visual memories you will have forever from this experience. It must be beyond beautiful with the mts and the sunshine. Carole
---
Carole - 10/24/2014
For: Sarah
It is so great to hear your voice!!! Sounds absolute breathtaking ;) humbling to see the prayer flags as the photo today. Boys going to deer camp tonight wonder what wild animals they will see, hopefully not Smokey the bear!
---
Jean - 10/24/2014
For: Kevin/dad
Nice job!!! Mom and I are meeting up with Carla and her daughter today to explore Seattle!!
---
Cathy - 10/24/2014
For: Carlos (Charlie) and Nick
Congratulations my brother, you reached your goal!!!!!! Way to go Nick!!!!! To the rest of the group, kudos to all of you. What an accomplishment. Awaiting those fabulous photos of Everest. The hard part is over, you will all remember this for the rest of your lives WHAT A MOMENT!!!!. Can't wait until the 31st. XXXOOO
---
Noly and Pop - 10/24/2014
For: Sarah and Garth
Awesome view and great audio. You and the gang have just witnessed probably the most incredible mountain views from the top of Kala Pattar as you will find anywhere in the entire world!! Perfect weather day also! Keep enjoying the scenery as you slowly trek back to Lukla.
---
Jim & Bonnie Kili'08, Everest Basecamp '10 - 10/24/2014
For: John P.
Hi John! Hang in there, kiddo - it's all downhill now! I have been looking at pictures online of the Gorak Shep camp and it looks like you have had a spectacular view of Everest even without being at the top of Kala Patthar. I hope you can now breathe a DEEP sigh of relief on your way down the mountain, for accomplishing this incredible feat. I am so proud of you! Love, Pris
---
Priscilla - 10/24/2014
For: Garth and Sarah
Congratulations to you and the whole group!! Quite an accomplishment! The photos are awesome! The narratives and audios give us just a glimpse of what you must be feeling. Incredible! Thank you to Rick for always keeping safety in mind and for the daily updates. It it comforts us to know that your group is led by someone concerned with your safety and giving you a total experience.
---
Mom and Dad H. - 10/24/2014
No more comments are allowed at this time.