Viewing Post for: Everest Base Camp 2014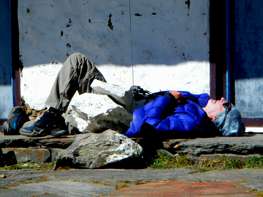 Date: Tuesday, October 21 - AUDIO
Location: Dingboche again, 14.100 feet or so
Here is an audio post from the gang. Download or listen:
---
Messages for this post
For: Paul
Sounds like you are all doing well and the weather looks great. Some friends and I hiked up Reynolds Gully down near Springwater yesterday. We didn't go quite as high as you, but had great fun anyway. The fall colors in the Finger Lakes this year are the best they have been in several years. Sam's hockey team won their game last weekend 4-1 and are 3-1 for the season. We have a tournament near Syracuse this weekend. "Hi" to Rick. Continue to stay safe.
---
Tom Walker - 10/22/2014
For: Dad/Kevin
Everything sounds great! Be safe, Dad! Love you!
---
Kelly - 10/21/2014
For: Carlos (Charlie) and Nick
Love the satellite version of the map. Pop is amazed at technology. Happy that you were able to do a little personal grooming although I think you have all gotten used to the "scents of the mountains". Onwards and upwards, keep on trekking,Namaste!!!
---
Noly and Pop - 10/21/2014
For: sarah and garth
I am thoroughly amazed at the terrain (looking at a topo map) you are hiking in. Are the trails even close to what you experienced in the Adirondaks (very rocky and some erosion)? Can you put a video up of a few seconds of hiking? Or is it all 'paths' that the locals have traveled for years?
---
Dad Dan - 10/21/2014
For: David
Am enjoying the vicarious experience. Here's hoping that too much sun is the least of your worries, David. Will that gallon of sunscreen you packed last the trip?!?!? Saw snow in the Adirondacks and great views the other day. Probably not the same as where you are. :-)
---
Lois - 10/21/2014
No more comments are allowed at this time.