Viewing Post for: Everest Base Camp 2014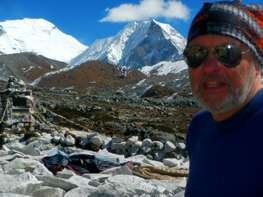 Date: Wednesday, October 22
Location: Loboche, 16,000 feet.
Sunny. Warm in sun, cool in wind and shade, cold at night. Did not snow much last night.

First, in case you in the Rochester area hear about Rochester man who was airlifted from the Khumbu area for altitude isssues, it was not us and he is okay. He was on a different route also. We are all doing well. Feeling the thinner air in some light headaches but doing well.

Today the walk was amazing again under the most brilliant blue sky you could find against the freshly coated mountains in white. We got to camp early afternoon.

It was sobering to pass by the many chortens, memorials on the way here to the many Nepalese and Foreign climbers. Names you might know like Scott Fisher and Rob Hall. We paused here. We are carrying prayer flags for the top of Kala Phatar to hang in memory of those close to us, those recently passed in these mountains in the last week and last May.

No bakerying in Loboche. A scattering or rough lodges where most people are inside by 3:30 when the sun goes behind the ridge. As it does, there is an incredible show of light and color on Lhotse, Nuptse with the last light fading off the triangle peak of Everest,

Tomorrow is a big day. The hike to base camp which will take us all day and over 18,000 feet. We will try to do an audio post from there.
---
Messages for this post
For: Carlos and Nick
I can't wait to hear how your trek to base camp turned out. It must have been awe inspiring! I hope the two of you are feeling well. I am so proud of your accomplishment. John wants to know if you can be viewed on the Kala Patthar webcam. Can you look for it on Friday? I miss you so much, but I can't stop smiling, thinking of how deeply satisfying it must have been to reach your goal. Be safe. Love you!!
---
Sue - 10/23/2014
For: Paul
Hi Paul! Sounds like an exciting day tomorrow. I hope you all reach the summit! Kids are all doing great. Madeleine decided SHE was going to read to the boys tonight. It's crazy how far she's come in just a few weeks into kindergarten! Eric is already talking about his next "loving" message to you... Safe travels!
---
Lori - 10/22/2014
For: Peggy MC
I know you are having a blast. Look forward to hearing about your trip! Be Safe !
---
Linda J - 10/22/2014
For: Sarah
Glad to see you and Garth are well and enjoying your adventure! I can only imagine the breathtaking beauty!! Can't wait to see pics. Stay safe!
---
Laurie Spampinato - 10/22/2014
For: Rick
Just saw the naked swimming picture. You never did that for me!! You better do this for all your groups now- especially glacial waters
---
Esther - 10/22/2014
For: Kevin
Just relalized you saw the Lama not the Dali Lama. Still a good thing.
---
Marc - 10/22/2014
For: Kevin
Trip sounds nice but you missed the bake sale today. PS we are out of lollipops (love Angela) Happy Pharmacy Week! We will save you some cupcakes. (love Lindsay) Glad you got to see the Dali Lama. (Marc) Good luck tomorrow. I look forward to all your stories and wisdom when you get home. (love, Rebecca)
---
Rebecca, Angela, Lindsay, Marc - 10/22/2014
For: Peter
Wanted to wish you well on your trek to base camp. Stay strong (like you always are) and reach your goal. Proud of you! Lots of love always, Susan and the kids
---
Susan - 10/22/2014
For: Rick
Got the post card today with the special stamp.Thats one for collectors.Looks like another great trip to Nepal.Wish i was ther
---
Daddeo - 10/22/2014
For: John P
Go get 'em! Wishing you safety and stamina on tomorrow's trek. Couldn't be prouder!
---
May - 10/22/2014
For: Sarah and Garth
What an awesome adventure so far! Good luck tomorrow. Can't wait to hear all about it when you get back to the ROC! Hydrate to dominate!
---
Tammy - 10/22/2014
For: Carlos (Charlie) and Nick
Loved your new photos. So happy that you are about to reach your goal. Don't worry about the gray beard Clairol can take care of that......lol. Good luck in the days ahead. Keep on trekking!!! Namaste!!!!
---
Noly and Pop - 10/22/2014
For: Team PP&S
May all of you reach your goals on your ascent to basecamp! Good luck on your journey.
---
Sarahs parents - 10/22/2014
For: John P.
I had thought you might be losing weight on this trip from the hiking, but with all the bakerying going on, maybe not!! Hope the food there has agreed with you, and that you and Dave are both in fine fettle. I will be thinking of you tomorrow as you climb to ever greater heights, and send all good wishes for your strength and stamina. Taking a deep breath now on your behalf! Love, Pris
---
Priscilla - 10/22/2014
For: Paul G.
Quite an accomplishment so far. You are experiencing an environment rarely seen by most people. Can't wait to hear your personal insights. We toast you with a fine glass of wine.
---
Barry & June - 10/22/2014
For: Sarah and Garth
Good luck on your challenging day tomorrow. Hope you're both feeling well and enjoy the climb. NY peaks will seem so easy after this!
---
Mom - 10/22/2014
For: Kevin
Should be very spiritual to get to your goal. Take care of yourself.
---
Margie - 10/22/2014
For: Dad/Kevin
nice pic! Good luck tomorrow!!mom and I are heading off for Seattle in a couple of hours!!!
---
cathy - 10/22/2014
No more comments are allowed at this time.