Viewing Post for: Everest Base Camp 2014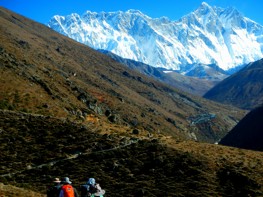 Date: Tuesday, October 21
Location: Dingboche again, 14.100 feet or so
Day hike today to 15,500 to acclimate. Cold last night but as soon as the sun came out the frost started to melt off the tents. Breakfast was at our table beneath all the mountains. The hike today took us way into the valley toward a mountain called Island Peak.

We are on the steep backside of Lhotse. Up here we are in high alpine, not much beyond some grass, rocks and snow and ice. And really amazing, intense beauty. Everest is on the other side of the ridge so we don't see much of her today.

Last night some were lightly feeling the affects of the altitude this morning all 10 of us took the hike. We need to be very careful of sunburn. A few lips are getting swollen so we are into the white lip look of zinc oxide.

And when we get back to town, time to go bakerying again. Carrot cake was the hit yesterday, the brownie was a thumbs down. It is very very hard to bake at this altitude. Yes, we have hot showers again though the floor sanitation conditions are not likely to pass a health inspection.

To answer the blog question, we eat eggs, toast, hot cereal for breakfast. Lunch is usually a hot lunch so homemade chapati, maybe grilled salami, cheese and apples. Dinner is often rice with a vegetable, usually beans or cauliflower and maybe chicken.

Animals, we have not seen many. Sometimes there are musk deer or Blue Sheep but not this trip. We did see a giant soaring bird go over us and lots of ravens.
---
Messages for this post
For: Peter
Keep on trekking and enjoying your opportunities! Miss you and so very glad you have this chance for adventure. The neighborhood isn't the same without you!
---
Jim & Cathy - 10/21/2014
For: Auntie Sarah
We checked out Google earth where you are it looks awesome! We also looked up musk dear and learned they have vampire teeth watch out for them on the trail! Male blue sheep have long twisted Curvy horns and female blue sheep have short straight horns, in case you see them. Halloween is coming I'm going to be Pikachu the Pokémon. Do they have a holiday like Halloween in Nepal?
---
Drew - 10/21/2014
For: Paul Garsin
Enjoying the blogs and the Boddingtons! Have managed a few hikes in Italy Valley and the Adirondacks since you left but nothing to compare with what you are experiencing. Patty and I wish you continued good trecking!
---
Bob - 10/21/2014
For: Auntie Sarah
I will have to look up blue sheep. Is there just one lama at the monestary you went to? How long has he been there? He looks old. Food sounds good, I like waffles for breakfast ;). Maybe you should write a book about the bakeries of the Himilayas lol. Have fun!
---
Drew - 10/21/2014
For: Carlos (Charlie) and Nick
You are both almost there, what a wonderful feeling. Hope that you are not having breathing issues but if you are I am sure it's the views of the mountains that is taking your breath away. We are all rooting for you and I am drinking a glass of wine in your honor every evening. Keep on trekking, Namaste.!!!!!
---
Noly and Pop - 10/21/2014
For: Garth and Sarah
We look forward to the updates each morning and are excited to follow your trek. Thank you for sharing this experience with us. Stay safe and warm!
---
Rob and Linda - 10/21/2014
For: John P.
It takes my breath away, but I hope not yours, just to read about the altitude where you are now! Hope all the prep work you did for this trip is paying off and you are hanging in there. I am reading the itinerary and blog and checking the map daily to keep track of you and hope all are continuing to do well. Cannot wait to see your photos even tho you say they will not do justice to the scenery. Had a great time in the Maryland mountains, now just molehills to you, babe!
---
Priscilla - 10/21/2014
No more comments are allowed at this time.