Viewing Post for: Everest Base Camp 2014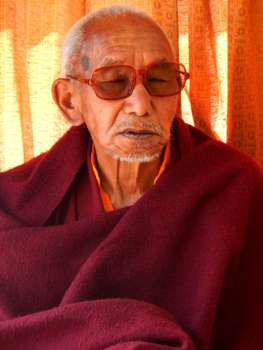 Date: Monday, October 20
Location: Dingboche, 14,000 feet, 3 hour hike. Sunshine!
The Lama in the picture is the Lama we had an audience with yesterday. He is 80 years old now. We tried to ask him questions of how to find peace and happiness but justly so the answer was basically, "It takes a long time and much study and living it". The interesting part was realizing how he views the world is much different then we do.

Lovely hike yesterday to Pangboche. We camped right next to the most ancient monastery in the Khumbu area. At dinner we met a Spaniard who came back early from Base Camp due to headaches. We compared world and trekking experiences.

Today the sun kept us warm even though we climbed higher. The group continues to be very strong so we arrived early to camp. Now we have time to go "bakerying" which is our new verb. We will spend tomorrow here also to acclimate more.

Occasionally we have the chance to take care of the health needs of our porters and Sherpas. We have one cook help whose knees we are helping with medication and knee bandages. One of the cook helps has a cold. The rest including us are all healthy.

So, will let you know which bakery in Dingboche has the best baked goods in case you are ever here.
---
Messages for this post
For: Paul
Good morning. Your trip sounds as though it is going well. Bob and I have been getting our exercise watching the grandkids. As part of loris birthday gift, we had all three overnight. And you think you are working hard. :) I heading to the Finger Lakes today and visiting some wineries, my hike will be to and from the car. Be safe. Kathy and Bob
---
Bob and Kathy - 10/21/2014
For: Charlie and Rick
I love reading thru your words and seeing thru your eyes all this beauty. Thanks for this blog so that I can see what my brother (Carlos) is up to. Have fun and I can't wait to read tomorrow's entry!
---
Chris - 10/20/2014
For: Paul (Dad)
How many times have you packed, unpacked, packed, and unpacked your shit within the last hour? Haha! You were driving me crazy with that nonsense in that little hut on the way up Mt. Meru... Remember?! You only breaked when you had to go have diarrhea in the WOMEN'S bathroom! So not cool!! Hahahahaha!! But CLASSIC!! Does your gerd improve or worsen with altitude? Hope you're handling the altitude well and having a great time! Missing you. XOXO
---
Eric - 10/20/2014
For: Carlos (Charlie) and Nick
So proud, so proud!!!! Love the blog and imagining being in your shoes. Danfe bird must be a relative of the peacock. Hope you have been able to get some rest and sleep. Two more days to go to base camp, how exciting. All lis well here and can't wait for your return and listen to your stories. Keep on trekking, Namaste!!!!
---
Noly and Pop - 10/20/2014
For: Kevin/Dad
Dad- I thought this was suppose to be a tough trip, you are going bakerying?? just kidding (smiley face) have fun!
---
Cathy - 10/20/2014
For: John P
Hi John, I hope you're having an awesome experience! I very much look forward to hearing about the trip seeing pictures. I suspect the pictures will be unable to capture the scope and grandeur of what must be an amazing landscape, but take as many as possible anyway! I hope you stay healthy and don't have an ill effects from the altitude. Have there been discussions within your group about paying respects to the sherpas who died on the Khumbu Icefall in April? Stay warm an looking up!
---
Steve Rohmann - 10/20/2014
For: Paul & Rick
Thanks for all the great info in the posts. It is almost like being there (NOT!). But still the info is great, just wish I was there too. Miss you, be safe! and Enjoy Your Day!
---
Troy - Kili 13' - 10/20/2014
For: Peter
Climbing Mt. Everest and eating lots of yummy baked goods, Peter is a happy man!! Have a great day, honey. Love you and miss you. Susan, Julia and Sean
---
Susan - 10/20/2014
No more comments are allowed at this time.