Viewing Post for: Everest Base Camp 2014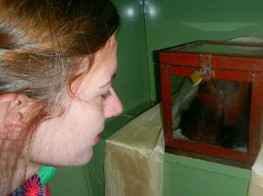 Date: Sunday, October 19
Location: Tengiboche, 9:30 am. 11,000 feet
In the picture you see Sarah staring with astonishment at the Yeti skull yesterday at the Monastery in Khumjung. The keeper of the monastery allowed a very brief moment for pictures before the doors were closed.

Today you are getting the post written early. This morning was the first morning that we had some nice cold weather after the snow yesterday. From here on out it will only get colder. We are getting reports there is snow on the ground higher up. No avalanche danger so don't worry. More sunburn issue. Today cleared to an amazing blue.

We stopped early for lunch as it now is a uphill 2 hour climb to the monastery. We are hoping to get an audience with the lama or at least a blessing. We will let you know tomorrow and try to get you a picture of the monastery situation. The cooks were concerned that we would get hungry with the uphill climb hence the long early break for lunch. Longer day today, maybe 7 hours of walking.

All are still doing very well, eating, healthy, and sleeping.

We passed the national bird (there are more then one bird) called a Danfe or Danphe depending how you spell it. Maybe one of you can put a link to it in the blog. We don't have computer access here except the satellite phone email. Beautiful peacock/pheasant like bird.

We are learning some Nepali words. Dudh means milk so hey "dudh" is frequently heard at tea time. Bholiyo means strong so now we are referring to our group as group bholiyo. Lets hope that continues.
---
Messages for this post
For: Carlos (Charlie) and Nick
Tried also to send link of Danfe bird but it has characters and this blog won't accept. I'm glad you got to see the Lama and you are only a couple of days from reaching your destination. Keep on trekking upwards and onwards. Namaste!!!!
---
Noly and Pop - 10/20/2014
For: David
Matt gave me this link when I wrote your birder friends for info. So glad you've are not near Annapurna. Sounds like a great group and trek! And you saw a Daphe? Will demand a show and tell when you return. Stay warm and safe! Regards from Brian and me!
---
Susan Earle - 10/20/2014
For: sarah
Sweet dreams the rest of the trip now that you have seen close up the yeti remains.....those ear wax eating pack rats must seem like small potatoes to this monster! Love,
---
Dad Dan - 10/19/2014
For: Carlos and Nick
I also tried several times to send a link to the Danfe bird, but the message with the link would not go through. It looks like a beautiful bird. Did you get any pictures? Sounds like it was an exciting and interesting day. I bet all the uphill trekking has kept you warm in spite of the cold temps. Are you wearing that sunscreen? I hope you were able to see the lama and get his blessing.I had a wonderful day in Queens with Noly and your Dad. Stay bholiyo! Love you and miss you lots!
---
Sue - 10/19/2014
For: Carlos ( Charlie)
We have been following the blog.. So glad your enjoying yourself .. Have fun and be safe! Much love..
---
Ceil and Paul - 10/19/2014
For: Carlos (Charlie) and Nick
Must have been interesting seeing the alledged (for you lawyers) Yeti skull. Hope you were able to see the Lama and get the blessing. We are very proud of the two of you. From now on your journey will be harder but we know you can do it. Keep on trekking!!! Namaste.
---
Noly and Pop - 10/19/2014
For: Sarah and Garth
Sounds fantastic! We're so glad you are not near avalanches! We saw 16 wild turkies today near Buckhorn and they said to say Hi to danfe! Love to you both!
---
A Tan and Gord - 10/19/2014
For: Auntie Sarah
We found a cool link for the Danfe bird but the blog won't let us post it. Might try again later. Wow! The yeti skull is smaller than we thought it would be, maybe it has to be small to hide in the woods. What kinds of food have you been eating? Do you think I would like it? Have you seen any wild animals other than the Danfe bird? Happy hiking!
---
Drew - 10/19/2014
For: John
We're at Deep Creek Lake and also had snow last night, but at only about 3,000 feet elevation. :-) Beautiful fall colors and lots of interesting things to do. We're glad to hear things are going well for your group!
---
Jeanie and Pris - 10/19/2014
For: Kevin
Hi friend! Glad to see that all is going well. Can't wait to see the pictures and hear the stories. Already developing the agenda for our next coffee time.
---
Jen (CAP) - 10/19/2014
For: Dad/kevin
Stay warm!!!
---
Cathy - 10/19/2014
For: Garth and Sarah
Glad to hear that you are doing well and experiencing such beautiful scenery and culture. I know you are working hard each day and I look forward to the daily updates. I sounds like you have a great group. You guys are awesome!
---
Tobey - 10/19/2014
For: Bumpy
We hope you are having fun. We love you. Bring us back something cool.
---
Kendra and Brooklyn - 10/19/2014
For: Paul Garsin
So glad you are not near the avalanches. This is a most amazing trip. Take it all in. Hugs.
---
Barry and June - 10/19/2014
For: Paul
Hi Dad, I hope all is going well with you and you are having the time of your life! Thinking of you with much love.
---
Danielle - 10/19/2014
For: Bumpy
I miss you! So glad you are enjoying your self. Have fun and be safe!
---
Jasmine - 10/19/2014
No more comments are allowed at this time.