Viewing Post for: Everest Base Camp 2014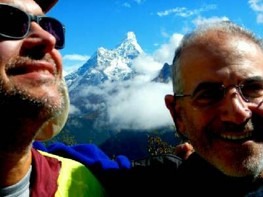 Date: Saturday, October 18
Location: Khumjung, 12,500 feet.
Sun moving into clouds, warm to quite cool today.

Our group liked this quote and wanted to share it with you.

"To those who have struggled with them, the mountains reveal beauties that they will not disclose to those who make no effort. That is the reward the mountains give to effort. And it is because they have so much to give and give it so lavishly to those who will wrestle with them that men love the mountains and go back to them again and again. The mountains reserve their choice gifts for those who stand upon their summits" Sir Francis Young

Sweet day again. We hiked to the Everest View Hotel. The contrast of the modern hotel with the surroundings is crazy. You round this corner on a ridge and spreading before you are the 3,000 drop off to the river canyons below and above is Everest, Ama Dablam (in the picture behind Nick and Carlos) and many, many other Himalayan giants.
Now we are in the town of our Sirdar, Sherpa leader and get to visit his home. It is his family home of over 400 years complete with its temple. Then onto the fabled skull of the Yeti! Stay tuned for a picture of that tomorrow. Some of us explored town and the nearby town of Kunde. All are still eating and feeling well. Nice.
Oh, yes, have to sign off and go find the local bakery and try to figure out the best chocolate cake in Khumjung.
---
Messages for this post
For: Carlos
This is incredible! I can't wait to see more pics when you get back! Nice beard! Enjoy every moment and BE SAFE!!! :)
---
Chris J at PF - 10/20/2014
For: Dad and Carlos
Great Picture!
---
Steve - 10/20/2014
For: David
Let's suppose that all of those Yetis, plus Hillary and Tenzing Norgay, all decided to drink a toast -- and clink each other's glasses. How many distinct clinks would there be? Best wishes!
---
Matt - 10/19/2014
For: Sarah & Garth
Just getting caught up on your trip and imagine your having a great time. Enjoy and be safe!!
---
Aunt Mary - 10/19/2014
For: David
Hi, Dave -- Sitting in camp the night before the final climb to the summit, Tenzing Norgay posed this question to Edmund Hillary: There is a troupe of Yetis living in a cave; two are chosen at random and both happen to have blue eyes. If the odds are 50-50 that 2 randomly chosen yetis will have blue eyes, how many are in the troupe altogether? What should Hillary have answered? Glad to hear that all is going well -- Joe
---
Joe - 10/19/2014
For: Kevin
Hey Kev! So glad your having an amazing adventure and can't wait to see pictures and hear more stories! Hope your group stays safe and warm while taking in all that amazing beauty. A fresh hot cup of Spressos coffee awaits your return, we miss you!
---
Jules - 10/19/2014
For: Nick & Carlos
Amazing adventure. The pictures reveal a beauty that has been with us since the beginning of time. A breath taking view of the majesty of our world. Our regards to everyone; be safe and God speed.
---
Al & Anita Holtje - 10/19/2014
For: sarah
Seen any Nepalese deer there-as all the deer at CCCamp seem to have headed for the hills. (Big Hills!) Any non domestic wildlife sightings? Or too much ' yakking' on the trails.... Namaste
---
Dad Dan - 10/19/2014
For: Sarah and Garth
I was watching the needs and saw something about Nepal and the trekking routes ... Made me think of you and your fabulous trip! Hope all is well that you're having the time if your lives!
---
Sue Marotta - 10/19/2014
For: Garth and Sarah
Following your marvelous trip and loving the pictures. Gran is enjoying hearing your posts. Take lots of photos! Love to you both- Brenda and Ron
---
Brenda and Ron - 10/18/2014
For: Carlos (Charlie) and Nick
Letting you know that Duke beat Virginia in football today 20-13. Game was tied until the 4th quarter when Duke scored the winning TD. GO DEVILS, GTHC!!!!!!
---
Noly and Pop - 10/18/2014
For: Auntie Sarah
We anxiously await the picture of the Yeti skull. We had our Walk-a-thon at school yesterday. Even Audrey walked in it! (She is walking all the time now) missing you!
---
Drew - 10/18/2014
For: Peter
Hi honey. Glad to hear all are eating and feeling well. Hope you found some good chocolate cake. At the campground with the kids and Kiera this weekend. Little rainy this morning, but seems to be clearing. Keep on trekking! Susan, Julia and Sean.
---
Susan - 10/18/2014
For: Paul Garsin
Hi Paul! Sounds like an amazing trip so far! Weather here is kinda crummy so you're not missing anything! I dragged Eric to see The Book of Mormon last night. You probably won't have a clue what it is, maybe somebody there will! Kids are great and having a sleepover at nama's tonight. We went trick or treating with Tessa and keekee last weekend at the zoo. Fun times! The garsins will be a superhero trio! Hope all is well!
---
Lori - 10/18/2014
For: Carlos (Charlie) and Nick
Was surreal Facetiming with you today! Pop was awed at the marvel of new technology. You look great, and happy to hear that no problems during the journey. he view from that hotel must be spectacular. I can't wait to see all the pics you have taken. God bless and "Keep on trekking" Namaste.
---
Noly and Pop - 10/18/2014
For: John P.
I just sent a response to Friday post a few hours ago, but am about to leave for western Maryland this morning so will send another before being away for three days. We will be chilling, quite literally, at Deep Creek Lake where the temperature is supposed to be 40, more than 20 degrees colder than home, but it looks like we are hitting the fall foliage at its peak. No comparison to what you are seeing, but I can't wait to get out of Dodge! Hope you are still breathing deeply!
---
Priscilla - 10/18/2014
For: Kevin
So glad to hear all is well with you and your group. Loving the posts and pics. The sites you are seeing sound amazing- be safe & enjoy!
---
Nicole & Karen - 10/18/2014
No more comments are allowed at this time.