Viewing Post for: Everest Base Camp 2014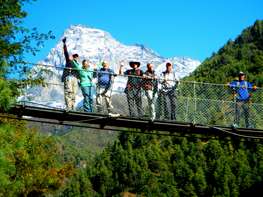 Date: Thursday, October 16 - Audio!
Location: Namache Bazaar
Here is an audio post from the gang. Download or listen:
---
Messages for this post
For: Nick and Carlos
Keep climbing, take lots of photos and take care of each other. Sending hugs and kisses. We are all living your experience through you - can't wait to hear lots of detailed stories some time soon.
---
Tara and Andrew - 10/17/2014
For: Paul (Dad)
Hope you're having an awesome time! I'm so happy you're up there fulfilling this dream of yours; really awesome! It's a shit-storm back at my house... Andrew is still insisting on doing everything in the bathroom himself ... and is a HORRENDOUS wiper! He literally covers the bathroom with shit... He's also taken up sleep-walk pissing. Interestingly, he makes it all the way to the toilet and pulls down the pj's, but doesn't go so far as to lift the seat. Crunch those #s. He's a miniature Poppy :)
---
The son who you should've taken on this trip with you :( - 10/16/2014
For: sarah &Garth
Remember, never go backwards! Blue skies..you can't be in the Adirodaks anymore. Be safe and enjoy.
---
Dad Dan - 10/16/2014
For: Paul Garsin
i hope you are having an amazing time. IMike and I are very busy trading off travel to places not nearly as exciting. Safe and happy travel to you Rick and the rest of your crew.
---
Danielle - 10/16/2014
For: Rick
Namaste my brother, I am glad all is well with you and the crew. I hope you have been finding time to ponder things....enjoy the journey and I will see you soon...Be safe!!
---
Your bro', who else - 10/16/2014
For: Rick
Namaste, I hope all is well. I still remember being in Namche and being sick. Did you ever see the tigers in the jungle that our guide was concerned about? Take care and travel safe.
---
gamelo - 10/16/2014
For: Rick
Hi Rick- I am so glad ya'll are okay!! I'm back in Dallas from Bhutan.. What a fabulous trip!! Hope you are having as great of weather as we did!! Keep up the good work!! Sending lots of good energy your way!! Lisa
---
Lisa - 10/16/2014
For: Rick and the rest of the group
Happy Shopping in Namache!! Souvenirs for the folks back home are always welcome!!
---
Tom Walker - 10/16/2014
For: Carlos (Charlie) and Nick
I am channeling your adventure and walking in your footsteps. Can't wait for the next pictures. Nick, loved your comments, glad you are here as well. Namaste guys........
---
Noly - 10/16/2014
For: CARLOS AND NICK
THINKING ABOUT THE TWO OF YOU EVERYDAY. HAPPY THAT YOU ARE HAVING A GREAT TIME, AND AS NICK SAID "UPWARDS AND ONWARD".
---
POPS - 10/16/2014
For: Sarah and Garth
So glad everyone is doing well and weather looks beautiful! What an amazing view! Happy trails! Love you!
---
Jean - 10/16/2014
No more comments are allowed at this time.