Viewing Post for: Everest Base Camp 2014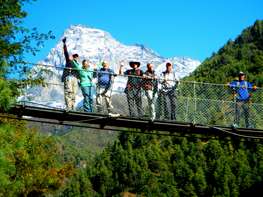 Date: Thursday, October 16. 2 PM.
Location: Namache Bazaar, 11,500 feet. Sunny, sweet!
First off, if you heard about the avalanche in Nepal, that was not anywhere near us. Nor is there anywhere on this route that avalanche is a potential. The rain we had as an a spin off of a cyclone in India was snow up high. Normally this is a dry season so people are high on the mountains. The unusual snow created a situation ripe for disaster given those factors. We are very sorry for the loss of those lives and their families.

Here all is well. All are healthy. We crossed many swinging and exciting suspension bridges that you see in the picture. You have to be careful not to get run over by a Yak and bumped by the porter baskets as you cross with two way traffic. We seem to be into a spell of stellar weather. Everyone is awestruck by the beauty of the people, buildings and of course the valleys and mountains. It is not possible to give even a small approximation of how grand this place is.

We pulled into camp a little late yesterday but that made today a short day. We ate lunch high on the hill above Namache. Tent front door pitched a few feet from a 20 foot drop off. Great view, short walk. Mostly we need to rest now. We will feel a little headaches maybe tonight and a little queasy. By tomorrow ight since it is rest day here tomorrow, we should be used to the height.
---
Messages for this post
For: John
Heard about Nepal storm on NPR as I drove this evening. Thankful for this posting so I know you're ok in a glorious local.
---
Carole - 10/16/2014
For: Garth and Sarah
We're so happy to hear you're safe and having a wonderful time!! Enjoy ever minute!!!
---
Sara, Maya, and Jerry - 10/16/2014
For: Sarah
We miss you but hope you are having a blast. (Your April vacation has been submitted so no worries!) So glad to hear you and Garth are safe! have fun!
---
Holt Rd! - 10/16/2014
For: Garth and Sarah
We are enjoying the daily updates and pictures. Good to hear that you are all safe and doing well.
---
Mom(Linda) and Dad(Rob) - 10/16/2014
For: Sarah and Garth
Great reading the posts. Wish we were there again. Glad the weather is great. You are very early into a trip of a lifetime. Say hello to Rick and the awesome sherpas.
---
Jim & Bonnie Kili'08, Everest Basecamp '10 - 10/16/2014
For: Kevin
View looks awesome!!
---
Cathy - 10/16/2014
For: Carlos and Nick
Happy that all are safe, Pop was worried but I read him the blog. Enjoy, enjoy, enjoy!!!!!!
---
Noly - 10/16/2014
No more comments are allowed at this time.