Viewing Post for: Everest Base Camp 2014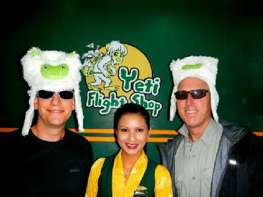 Date: Wednesday, October 15
Location: Monjo, 9,300 feet.
5 hours of hiking. Sun, lovely sun and clouds.

As you can see in the photo we have at least 2 yeti who are joining us. The young woman is not. Men are disappointed.

We waited 3 hours for the fog to lift before a spectacular flight into Lukla. Wow, woo, woo, wow.

Currently at the the Holiday Inn for lunch (that is the name here). Amazing view. Rushing river below.

We were engaged in a high altitude blood pressure research project. Kevin is being more carefully monitored, wearing a 30 minute event monitor. We will be evaluated several times at various locations on the way up and down. Kevin by the way chose this role, as he is a fine example of a healthy male.

Oops, some heavily laden yaks going by, noisy bells.. back to writing our blog.

So, wow again. oops, two trekkers almost taken out on the stone steps by yaks, lunch is exciting.

Anyway, all are hiking excellent. Kami, Lhapka, Nawheng and Nima with us again. We would not e in better hands.

Look for more updates each day.
---
Messages for this post
For: Rick and the whole group
Hi Rick and all! So glad that you are enjoying the trekking and majestic view in the Himalayas! Can't believe it's been almost a year since we were there and doing the same trip as you all are. Our very special well wishes to you all. Rick, please extend our very warm regards to Kami, Lhakpa, Nahweng and Nima. There are one heck of a team to have with you. Good luck and can't wait to hear from you when reach Base Camp! - Soha and Dad (Damaroo) Shah, from wet, rainy Ohio!
---
Damaroo and Soha - 10/16/2014
For: Paul Garsin
Please let us know if you and your team are OK. We heard some bad news this morning from that area. From the notes I assume your team is OK.
---
Frank Hacknauer - 10/16/2014
For: Paul
Looks like you are enjoying the trek. I'm sure you are finding as I told you each view is more breathtaking than the last and the Sherpa are warm and wonderful. Please give my very best to Kami and stay safe.
---
Tom Walker - 10/16/2014
For: Paul Garsin
I have reading about the weather problems in Nepal. Stay safe. There are a lot of mountains we need to climb. Bob
---
Bob Loce - 10/15/2014
For: Carlos
Just saw in the news about blizzards and avalanches in and around the Himalayas. We pray that you are all out of harm's way.
---
Max Lew - 10/15/2014
For: Sarah & Garth
Looks like a blast! Hope Sarah shared the m&ms in the trail mix!
---
Heather - 10/15/2014
For: David
How's the cook doing?
---
Joe - 10/15/2014
For: Charlie
Just want you to know that I'm following your journey on a daily basis. What a great adventure my brother!
---
Chris - 10/15/2014
For: Bumpy
Hope you're having a blast bumpy! Miss and love you!
---
Ashley - 10/15/2014
For: John
Important message for John! You have been contacted about teaching an OLLI course in the spring semester. They said it is okay if you just call them when you get back. Proposals will be due December 1. It was great to get your emails and now to see the pictures on the blog. Cheers!
---
Pris - 10/15/2014
For: Sarah and Garth
Sounds like you're having a great time hiking and yakking! Have fun!
---
A Tan and Gord - 10/15/2014
For: Paul
Hope that you have missed the blizzard and avalanches we read about. They sounded pretty bad. We look forward to hearing about your adventure on your return Rick and Stephanie
---
Rick and Stephanie - 10/15/2014
For: Garth
Love it! Glad you are getting some sun and clear weather.
---
Mom - 10/15/2014
For: Rick French
say hi to Kami I hope you feed this group. Jeff lost about 10 pounds and now it is my job to get him fattened up. ENJOY
---
Esther - 10/15/2014
For: Kevin
Don't let a Yeti follow you home! Be safe and have fun.Can't wait to hear about your adventures and see all the pics.
---
Kathleen - 10/15/2014
For: David
Happy adventuring! The narrative is impressive. Leaves turning color here, all's well.
---
Leslie - 10/15/2014
For: Carlos and Nick
Enjoying the blog. How was the flight?? Hope you took great photos. Onward and upwards guys!!!
---
Noly - 10/15/2014
For: sarah
Watch that Garth. He'll blend into the caravan crowd. We did a hike at PJHoffmaster Park today (elev 571 ft) to inspire you. Climbed a few sand dunes. Rock on girl! I'd be walking with the yaks if I was there. Hey maybe bring me a bell so you'd know where I am on the trail.
---
mom & dad - 10/15/2014
For: Peter
Love the hat! Julia will love it. Better get one for Sean too! Think 2's of everything. Glad the flight went well. Got a little nervous after the kids and I were reading about the airport ( and how it is the world's most dangerous airport) and looking at pics of it. Wow! A thrill ride I am sure. Have a good day! Lots of love from home, Susan, Julia and Sean
---
Susan - 10/15/2014
For: Paul Garsin
I gave a brief update on your progress at the HOA Board meeting last night. All present are amazed at your adventure as well as the lengths you will go to avoid a Board Meeting! Seriously, the entire neighborhood is pulling for you and waiting for more good news from you and your colleagues! Kevin
---
Kevin Austin - 10/15/2014
For: Kevin/Dad
Hey Dad! glad the flight went well!! have fun!
---
Cathy - 10/15/2014
No more comments are allowed at this time.