Viewing Post for: Kilimanjaro Climb 2014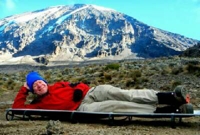 Date: Sunday, January 26 AUDIO POST
Location: High camp, Barfu, 15,000 feet.
Here is an audio post from the gang. Download or listen:
---
Messages for this post
For: Harry & Dave
How exciting for you guys! Best of luck as you summit! Enjoy each moment! We're thinking of you. -Kate & Phil
---
Kate Gibson (Walsh) & Phil Gibson - 1/26/2014
For: Harry & Dave
Don't know if I'll be able to fall asleep tonight thinking about you guys topping out. Here's a big high five for your summit. You guys are the best partners ever and I'm sure you've been part of a great group. Congratulations to all. I love you guys!
---
the third amigo - 1/26/2014
For: Ranger and all
Wonderful to be able to check in daily for your progress! Saturday evening - went to a friend's house to see pics of his recent Everest base camp. Kili is his next adventure - will put the two of you in touch. You're all inspiring us to take some adventures of our own! Thank you for that. Keep "livin' the dream" - looking forward to the summit post and audio. Soak it all in ... bring it home as a smile for the rest of your life!!
---
RichieD - 1/26/2014
For: Kalvin and Mindy
Happy summit day!!! Hope you guys are having such an amazing trip and come back with plenty of fun stories to share! Be safe, love you both!
---
Katie Flynn (your lovely niece) - 1/26/2014
For: harry charlie dave and maggie kevin and rick
Good luck as you summit-take lots if photos! Enjoy your descent and safari! Love you shannon
---
shannon - 1/26/2014
For: Ranger
Thanks for the great audio post and good luck as you approach the summit! Keep rockin the blues & the mountain! Cannot wait to see you when you get home.
---
JD - 1/26/2014
For: Harry
Harry, What an awesome adventure we get to experience through you. Can't wait for the follow up of your smash hit "Cant Get a Tan on a Plane". Perhaps "Harry Climbed a Little Mountain" - set to the tune of "Go Tell it on the Mountain". Be safe, enjoy.
---
Robin and Peter - 1/26/2014
For: Kevin Maggie
Have an awesome day up there I can't imagine the view you will get to have. Wave hello to Arusha for me when you get up there!!! Love Sean
---
Sean - 1/26/2014
For: Maggie and Kevin
What an amazing adventure you to are sharing! Cannot wait to hear all about it when you get back. Enjoy your summit day...it will be a true gift! With love and prayers. Sue & Bryan
---
Sue & Bryan - 1/26/2014
For: Kevin And Maggie
Here's to a great summit day. Enjoy the splendor of Kili and your love for each other. Love you, Chris & Tracy
---
Chris & Tracy - 1/26/2014
No more comments are allowed at this time.