Viewing Post for: Kilimanjaro Climb 2014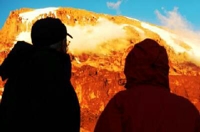 Date: January 25, Saturday
Location: Karanga Camp, 13,000 feet.
Off and on rain. Arrived at 1:00 PM

Arrived to more singing and dancing. Joined with morraca and harmonicas. Africans lead the singing in Swahili and we twirl and whirl and clap with them. Steepest terrain to date. Up and down and up and down and up. Barranco wall was successfully tackled and topped off with verses recited on the rock stage on top by Harry and Charlie. We are sitting here in the clouds which come and go. 10,000 feet below are the plains of Africa. The Swahili lessons continue. Across from this computer two climber students are taking notes. All are well today. That is good as tomorrow is a big day. We climb to 15500 to rest until our midnight start. Now we are high above plants and surrounded by gravel and volcanic boulders with beards of orange lichen decorating the sides. Lunch today was chicken, green bean, carrot pizza and french fries. Bobkubwa! Great!
---
Messages for this post
For: Maggie & Kevin
Sounds like you are walking down Monroe Avenue... Singing and dancing? Great time. I can just imagine Kevin on a harmonica. More entertainment while playing cards... Looking for more of your adventure!
---
Dawn & Bill - 1/26/2014
For: Chuck
From Eagle Rock in the 60's to Kilimanjaro in the 20's! You have come along way, Chuck! Greg and I have been enjoying the posts and updates of your adventure. The whole trip sounds wonderful in so many ways! Can't wait to hear all the details and see all the pictures. Good luck and enjoy!
---
Jeanne and Greg - 1/26/2014
For: Dave
Happy climbing! Looking forward to hearing of your success on Monday!
---
Jennifer - 1/26/2014
For: Maggie and Kevin
We and the rest of your euchre compatriots are thoroughly enjoying the posts and monitoring your progress. Sounds like a once in a lifetime experience(except for Kevin). Best of luck to all on your adventure and we will stay tuned in.
---
Bill and Sue - 1/26/2014
For: everyone
Awesome posts...we enjoy reading them. Enjoy.
---
Chris and Terri - 1/26/2014
For: Rick and Co.
Summit day,what a day/night! It is snowing and blowing like crazy here and every time I look at the star filled skies I am reminded of my awesome night hike up kili with Yusuf singing his songs in Swahili. I am thinking that by the time you read this you will all have felt the amazing feeling of conquering the world's tallest freestanding mountain. Congrats and rejoice as you are now in a really special club. RICK: please tell all the guys there I said hi and that I think of them daily.
---
Troy - Kili/Meru '13 - 1/25/2014
For: Maggie and Kevin
Good luck tomorrow magoo! Kevin take care of her.
---
Janet - 1/25/2014
For: Charlie
Having a few beers at the crib...wish you were here, but are jealous of you! Great job Charlie! Onward & upward!
---
Henry, deb, jimbo &lyd - 1/25/2014
For: Charlie & crew
Enjoy! loving your daily posts. Wish i could hear the music. Sounds like great fun!!
---
Clare - 1/25/2014
For: Ranger
So the die is cast! You may be taking over the title of, " The tie that binds"-you are international! The bar rises!
---
Smiler - 1/25/2014
For: Harry and the rest of the team
I'm with Marianne and Dan. I want to see Harry reciting verse on stage. It could be an entirely new career for you, Harry!
---
Bruce - 1/25/2014
For: Harry and the entire team
Congratulations on your accomplishments so far..you are all so inspiring! It is good that your food is still excellent and you still have appetites. You will especially be in our thoughts and prayers as you approach the summit. Pole pole will get you there (not to mention your determination, your guides, & your encouragement to each other). ps.. hope someone recorded Harry & Charlie at the top of the Wall...might be the next Utube sensation!
---
Marianne & Dan - 1/25/2014
For: Rick and 2014 Killi team
Greetings. We wish you all a very happy and safe hike. You will enjoy beauty of the mountain all the way to the summit. Our team in 2010 had a great experience. You all are in our thoughts and prayers. Enjoy the African culture,food and hospitality. Best wishes.
---
Damaroo and Soha (father daughter) 2010 kili - 1/25/2014
For: All
Sounds like you are having a blast! Good luck tomorrow ! Almost summit day!
---
Shannon - 1/25/2014
No more comments are allowed at this time.